Manchester United
Pogba reveals key mentor role Carrick is playing in his development at Man Utd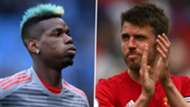 Paul Pogba has revealed that Michael Carrick is playing a key role in his development at Manchester United.
The Frenchman, signed from Juventus for £89 million in 2016, has hit a purple patch of form, scoring twice in a recent 3-2 comeback win over champions Manchester City and impressing in the club's FA Cup semi-final victory over Tottenham.
Despite that, Pogba has only managed to score five goals thus far this season, though he says that Carrick, who is retiring at the end of the season, is helping him become a more complete midfielder.
"He told me about how running without the ball can make the difference in the game," he told Sky Sports . "I call them the Lampard runs - making the run, getting into the box, and that helps a lot.
"Michael has the experience, he always talks to me since I arrived last year and helps me with the position and all that.
"It just came naturally in training if he sees something I could do better it comes and tells me. Sometimes I go to him and say do you see something I could do better and he helps me and helps me to improve. When you are inside and outside you don't see it the same, I just ask him and he helped me a lot."
Pogba is 25 and, while he is aware that he is no longer a young player, he insists he is only getting better.
"You always want to be at the top every game, to improve every game and I think I am still improving," he added.
"I can still do better. I am not young but I can still improve, learn and get more experience. I will get better and better during the next year."