World Cup
'We are 90 minutes away from making France rock!' - Pogba reveals final team talk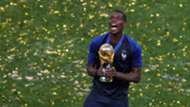 Paul Pogba revealed that he led an inspirational team talk ahead of Sunday's World Cup final, telling his France team-mates to realise their dreams.
Midfielder Pogba was influential in the showpiece match as he scored a fine second-half goal to help Les Bleus to a 4-2 win over Croatia.
The Manchester United star had already played his part before the match, he later revealed, after calling on his France side to do whatever it took to stop Croatia and claim the title as their own.
"It is a dream since I was a young boy. I hope we have made the people proud," Pogba told TF1.
"I told everyone before the game, 'We are 90 minutes away from realising our dream, we are 90 minutes from entering into history books for life, and we are 90 minutes away from making France rock - even children, and their children, will know about this.
"'Guys, we can do this. There are two teams and only one cup and we are not going to let another team take this cup.'
"That is all I told them and the result was superb."