PSV
Phillip Cocu must show potential and turn around PSV decline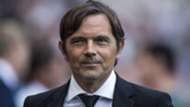 ---
COMMENT
---
"He has everything it takes to become a top coach," PSV general director Toon Gerbrands said of head coach Phillip Cocu this week. "There is a certain perception around him due to the quiet, controlled way he does press conferences and all that. But everyone who knows him in the footballing world experiences how sharp he is."
Don't do a Martial! Why Mbappe must stay
It is a huge assessment of a man well respected at the top level of European football from his playing days and in the formative years of his coaching career. Having guided PSV to two Eredivisie titles in his first spell as a head coach, the stock of the ex-Barcelona and Netherlands player is understandably high, but he must show a significant improvement if he is to fulfil such hype.
Sitting third in the table and eight points behind leaders Feyenoord, whom they face in Rotterdam on Sunday, this season has marked quite the decline for Cocu and his PSV team. Too slow, uninspiring and unintelligent, the Eindhoven side are a shadow of the team that brought an end to a seven-year title drought in remarkable fashion by finishing 17 points ahead of Ajax. 
Of course, the coach deserves credit for bringing that glory and following it up with another title, as well as a narrow Champions League last-16 defeat to Atletico Madrid, but there have been few reasons to celebrate him this term.
They have barely been in the mix for the league crown as they have watched their two big rivals show them up. Even against the weakest teams in the league they are finding it tough to grind out results, having been held to seven draws, leaving it late in some and appearing lucky in several others.
Donnarumma is China's 'Great Wall'
PSV's chances of winning the title are incredibly slim and it is clear Cocu must drastically improve as a coach if he is to continue to recover and move this team forward. In a way, he is faced with a similar test that Frank de Boer failed in his final two years at Ajax – the need to add to success and ensure the team remain ahead of their rivals to show this is a coach capable of making the next step up. But like De Boer, Cocu seems to have drifted to a one-dimensional, ideological style that quickly loses its potency as players come and go.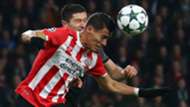 In his first title win, Cocu oversaw a well-oiled machine. They had a rare asset in Jetro Willems, who charged forward to become a remarkable threat, while Memphis Depay cut inside to strike up a superb understanding with Luuk de Jong and Georginio Wijnaldum, culminating in a lethal side.
After Memphis and Wijnaldum left and Willems missed the first half of the following season due to injury, there was a lack of balance but they were saved by the fact De Jong remained a formidable force. As Gaston Pereiro and Davy Propper chipped in with goals to help cover for their key problems, PSV went on to win the title on the final day – snatching it from Ajax who drew 1-1 with relegated De Graafschap.
The defensive issues were obvious then, too, but the poorly protected back line that had a reluctance to close down went unpunished by the disorganised attacks of the Dutch league. This term their defence is looking strong, with Hector Moreno excelling in the centre and adding composure beside Nicolas Isimat-Mirin, while Arias and Willems bomb forward, but the way they attack is too slow and lacking imagination.
Verratti: Fans inspired me against Barca
At the other end, the biggest difference is that De Jong is struggling drastically. His seven goals in 23 games pale in comparison to the 26 he ended on in 2015-16. Though he has seven assists, he was always a mobile and engaged forward, whereas he seems stuck in one zone this term - both his threat and usefulness elsewhere have been erased. Cocu has had no luck in bringing him back into form.
That absence has been felt, yet PSV still consistently send crosses in to capitalise on his aerial ability. Of De Jong's 88 attempts this term, 48 have been with his head, which is an example of how atypical PSV see him now - Erik Falkenburg of Willem II has the second most headed shots in the league with 19. But in De Jong's one-dimensional role he has become too easy to mark and so that valuable ability has been wiped out and he has been limited to just three headed goals.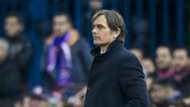 While Propper has been the star player overall, a key addition, just like last season, has been the January loan of his former Vitesse partner and the brother of his girlfriend, Marco van Ginkel, from Chelsea. With four goals and two assists, his runs forward give them an option through the middle. That combined with Bart Ramselaar, a summer signing from FC Utrecht, going from midfield to left wing since the turn of the year has given PSV more of a presence in dangerous areas.
Though progress has come in recent weeks from Van Ginkel and Ramselaar's effectiveness, Cocu has not been able to make it a clear enough focus for his side and so PSV remain single minded and intent on using the wings most frequently. With Willems, right-back Santiago Arias and winger Pereiro lurking around the box, the crosses continue to fly in, regardless of the inefficiency, and the increasing lean towards wing dependency is something Cocu needs to bring an end to. 
'We're going to cut out Balotelli's tongue!'
PSV must get over the mindlessness of their attacking method and develop a new dimension - with Pereiro and Oleksandr Zinchenko available he has different and more central options available. However, Cocu does not seem willing to alter a not-winning formula. Even the off-colour De Jong has started every game as captain, failing to finish just one of those.
That could prove costly. De Boer has suffered from not enhancing his ideas, but at least he had some of his own. Cocu has shown little individuality as a coach and has been caught out often at times in Europe. While many will point to his wins over Manchester United, Wolfsburg and that close run with eventual finalists Atletico in the Champions League last season, his set up in the Europa League before had been easily dealt with by Zenit, and this season they have been disastrous. Finishing bottom of their Champions League group, they then went out of the KNVB Beker in the second round and are eight points off the pace ahead of a meeting with the leaders.
This season looks beyond them, but the concern is that next season will not be much better. There are several players who could move on, but it is hard to imagine them getting big transfer fees for the likes of De Jong, who failed in Germany and England, Moreno, 29, and Andres Guardado, 30. Meanwhile, Willems, a truly special talent, has come under criticism and will not bring in a large transfer fee as his contract expires in 2018. Getting rid of such players may help PSV build a fresher, better organised team, but it should not be necessary at this point.
PSV won both games between the two sides last season, but after the Rotterdammers won in Eindhoven, completing the double over them on Sunday will be a big indication of how much things have changed between these two teams.
Cocu's time in the limelight at PSV has faded quickly, but if he is to restore his reputation and show that he has the ability to compete at a high level in Europe, he must get this PSV side back on top in the Eredivisie.