Manchester United
Paul Pogba is the main reason why Man Utd are eight points adrift of City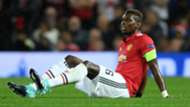 There were many figures in football who didn't even wait for Manchester United to complete their purchase of Paul Pogba before weighing in with claims that the £89.5 million fee was unjustifiable. To them, the Frenchman would never be able to prove he was worth the world-record sum United were willing to fork out.
The summer of 2016 seems so long ago now, just 15 months on from the 24-year-old's high-profile arrival. Far from struggling to add value to the United side, Pogba has quickly developed into Jose Mourinho's key man. Not only were his performances of consistent quality to begin the 2017-18 campaign but the Red Devils have failed to come anywhere close to matching their early-season form since the Frenchman was struck down by a hamstring injury two months ago.
Denmark 7/2 to beat Ireland 1-0
Pogba cannot come back quick enough, and it will come as a huge source of relief to United fans that he is expected to return to the matchday squad when Newcastle United roll in to Old Trafford next Saturday.
What a far cry from the pelters Pogba was receiving this time last year as United's difficult start under Mourinho was personified in the former Juventus star's difficulties in attempting to acclimatise to a new manager and a new style of football.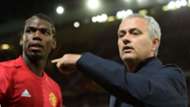 "I just don't think he is worth £86 million," said Paul Scholes ahead of Pogba's return to Old Trafford. "For that sort of money, you want someone who is going to score 50 goals a season like Ronaldo or Messi. Pogba is nowhere near there yet."
Emmanuel Petit concurred: "It is a waste of money for me. If Real Madrid wanted him, they would put the money on the table, but they don't want to fight with Man Utd for Pogba. There is a reason for that."
And when Pogba found it difficult to hit the ground running, such views were becoming widespread.
After United were defeated in the first local derby of the season to neighbours City in September, his Facebook page was flooded with snide comments from fans calling him everything from "unfit and lazy" to "lacking in passion".
But United knew what they were doing in laying out such a sum for Pogba, and they were sure that once the furore over the cost had died down their former youth product would settle in and excel at Old Trafford, and even if in a supposedly-underwhelming first campaign United's returns did not reflect Pogba's influence.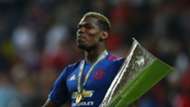 The decision by Paris Saint-Germain to shatter the record mark by spending £198m on Neymar this past summer has doubtless quietened some of those berating Pogba, but his transformation into the beating heart of United's side has gone even further in silencing the queue of critics.
When the season started fans and pundits alike were falling over themselves to comment on United's new high-powered, slick style of play. While Nemanja Matic's addition was rightly lauded as a masterstroke in aiding Pogba to add a new dimension to the side, the Frenchman's own instincts also helped to bring out the very best in the former Chelsea man.
But since Pogba limped down the touchline after suffering a hamstring injury against Basel in September, United have looked a very different outfit. No longer do they have an irrepressible demeanour about their play and instead have struggled to turn defence into attack with anything like the smoothness of those early weeks.
Too often of late when either Matic or Ander Herrera has received the ball at the base of midfield they have looked up to see five largely static team-mates ahead of them, outnumbered by a deep-lying opposition waiting for United to come up with something special. There is no energetic force bursting into spaces looking to pull adversaries out of position, and Mourinho's side have found it so much harder to break down teams as a result. The robustness has gone.
The loss of Marouane Fellaini to injury robbed the Portuguese of his favoured alternative option, with the much-derided Belgian offering the kind of nuisance factor United simply don't have without Pogba in the team.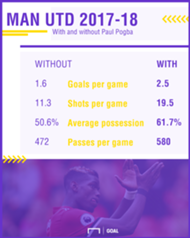 What's more, United have lacked a degree of leadership in their play without Pogba. They allowed Wayne Rooney to leave on a free for Everton last summer and are still waiting for Zlatan Ibrahimovic to return, and it is noticeable that their current skipper, Antonio Valencia, has the armband on largely symbolic grounds. When their play has been lacking of late, there has been nobody dragging his team-mates up by the bootstraps, not one player injecting that something extra to lift the supporters at crucial moments.
In truth, it is Pogba who is the leader of this club and the fact that his injury happened to come just 15 minutes into his first start as United captain was lost on few observers. Mourinho is rightly desperate to get his star man back into action because without Pogba his team is a shadow of what it can be.
Two months ago United were actually outdoing leaders City, albeit over a small sample size. Not only that, but they were drawing even greater superlatives from the neutral public thanks to their new, more dominant approach. With Pogba now on the verge of a long-awaited return, United have eight points and nine goals fewer than their rivals.
There is no coincidence that United have fallen away without Pogba. And while Mourinho spent much of the midfielder's absence claiming he had "no idea" when he might return, the truth is that he seems to have no real idea how his United side can reach their maximum potential unless Pogba is at the heart of it.