Australia
Patrice Evra's praise for inspiring Socceroos Awer Mabil and Thomas Deng
12:40 PM GMT+8
17/10/2018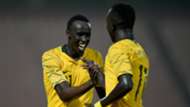 From South Sudanese refugees to Socceroos. The inspiring story of Awer Mabil and Thomas Deng has rightly caught the world's attention.
The duo turned lifelong dreams into reality on Tuesday when they made their international debuts for the Socceroos in a 4-0 friendly win over Kuwait.
It was a particularly special night for Mabil, who scored just minutes after coming on as a substitute to wrap up the victory.
Having overcome adversity early on in life to shine on the world stage, the pair have earned praise from former Manchester United defender Patrice Evra among many others.
— Patrice Evra (@Evra) October 16, 2018
— FIFA.com (@FIFAcom) October 15, 2018
— TIM CAHILL (@Tim_Cahill) October 16, 2018
— Bruce Djite (@BDjite) October 15, 2018
Mabil dedicated his goal after the match to his mother and admitted the game was a dream come true. 
"It was very special," Mabil told Fox Sports.
"Flashback nine years ago and we were playing in the park together with our friends and we could never dream of this, the way it has happened today.
"It's amazing it has happened, we have to thank Australia for giving us this opportunity. It's a big dream come true."
Melbourne Victory defender Deng was particularly proud of the fact they've opened the door for more young Africans to one day represent the Socceroos.
"It's something we should be very proud of and our families and people that are close to us should be proud of," Deng said.
"We've both opened doors for a lot of young Africans coming up. I hope there's more to come."