AFF Championship
Park prepares Vietnam to face best attacking force in AFF
12:59 PM GMT+8
10/12/2018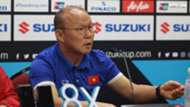 Once bitten, twice shy. That is the motto that Park Hang-seo will be adapting for his Vietnam side when they take on Malaysia in the first leg of the 2018 AFF Suzuki Cup final at Bukit Jalil National Stadium on Tuesday.
Having already lost once to Vietnam in the group stage, Park is adamant that Malaysia will be more prepared this time around and is anticipating a far tougher test than the one Harimau Malaya offered at My Dinh Stadium almost a month ago.
The Korean went on to explain in the pre-match press conference held on Monday morning that he sees the Malaysian attacking quartet of Zaquan Adha, Norshahrul Idlan Talaha, Safawi Rasid and Mohamadou Sumareh as the most dangerous attack in the entire competition.
"The Malaysia coach and players are the same to the group stage but the scenario will be different than before. They will prepare well to find our weakness. In my opinion, Malaysia have the best attacking line-up among the 10 teams in the competition. So we'll have to do well to overcome this difficulty."
"This will be our first Suzuki Cup final for 10 years so tomorrow will be a very special moment for me and my players. I feel quite good because it's the final. We have to prepare very well becaue tomorrow's match is away and in front of more than 80,000 people. 
"Of course communication will be hard because of the noise in the stadium but we will use what we can, whether that is by passing notes or using hand gestures to get our orders to the players but it will not be a big issue," said Park.
It's been 10 years since Vietnam last entered the final of the competition (winning the 2008 edition) and having lost in the semi-final in three of the last four tournaments, they have a huge ghost to bury going into this final.
With only two goals conceded throughout the competition thus far, Vietnam have the most measly defence in the competition and a clean sheet is what Park will be hoping to get in the first leg to ensure that Malaysia have no advantage going to the return leg on December 15.
Follow Goal Malaysia on Instagram