Ligi kuu Bara
Okwi and Bocco: The best strike duo in the League
12:42 AM GMT+8
02/02/2018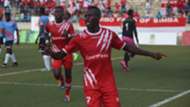 The partnership between Emmanuel Okwi and John Bocco continues to blossom with only Yanga in Ligi Kuu Bara able to say that they've scored more goals as a whole than the Msimbazi duo this season so far.
Both Okwi and Bocco netted braces on Sunday evening and they've now scored 19 goals between them; Okwi has 12 whilst the former Azam forward has scored 7.
Only Yanga have scored more goals this season than the two attackers combined. The Jangwani outfit have scored 20 goals as a team which is one goal ahead of the Simba's duo.
In the race for the golden boot, the two Simba forwards are out in front despite Bocco's poor start to the campaign.
Their nearest challenger is Obrey Chirwa who has scored 7 league goals this term.
Simba is the leading club with most goals in the league from 15 games having scored a total of 35 goals and conceded only 6 goals in the first round.
Among the teams which could not score many goals as much as Okwi and Bocco combine are Azam FC (16), Singida United (14), Mtibwa Sugar (11), Tanzania Prisons (15), Lipuli FC (8), Ndanda FC (9), Mbao (14), Mwadui (14), Mbeya City (12), Ruvu Shooting (9), Kagera Sugar (7), Majimaji (12), Njombe Mji (8) and Stand United (5).
Okwi alone has scored more than Mtibwa Sugar, Lipuli, Ndanda, Ruvu Shooting, Kagera Sugar, Njombe Mji and Stand United, all teams with total of seven goals.