African All Stars
Odion Ighalo reveals he nearly quit Nigeria duty after death threats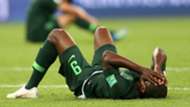 After helping Nigeria to the brink of African Cup of Nations return on Tuesday, Odion Ighalo has revealed that he almost quit the team following abuses and death threats he and his family received after his World Cup showing.
The Changchun Yatai attacker was a target of discontent fans on the social media after underwhelming at the big summer - particularly for his performance in the team's loss to Argentina which saw them give up the chance to progress to the knockout stage of the competition.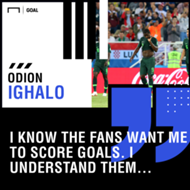 "I know the fans want me to score goals. I understand them," Ighalo told KweseESPN.
"They said a lot of things. To my innocent kids, to my wife, even to the extent they threatened my life and the life of my family.
"I felt very bad [when they went after my family]. I had to talk to my wife because she could not take it. Some words they said about my kids, about me. Some words they said to her, threatening and all that. That is beyond football.
"You know women and how they react when you talk about their children. But I never said a word to nobody and I never replied anybody."
"My wife said 'you don't have to go there [to Nigeria] any more' and it was because of all what they said to her and to our family."
Ighalo has since pick himself up, scoring goals aplenty in China where he currently sits second in the Chinese Super League goalscoring chart with 20 efforts from 25 games.
Also, he has played himself back into the good books of Nigeria faithful, scoring six goals, including a hat-trick and brace in the recent doubleheader against Libya to help Gernot Rohr's men move to the top of Group E with nine points.
The former Watford and Udinese attacker credited Rohr for trusting him again and helping to rescind his decision to quit the national team.
"I want to thank Rohr because after the World Cup and all those things happened, he called me before the Seychelles game [in September] and I told him I was contemplating stopping because it is not easy," he continued.
"But the coach had belief in me. He said 'I know you are a good goalscorer and I know you can do it. Come and show them that you can score.'
"If a coach believes in me, then I will come. I told him 'coach, if I am in your plans hundred percent then I will honour the invitation any time you call me.'
"He said 'yes, you you are in my plans for the games'. Then he said 'don't be under pressure, just go do your thing, I know you can do it.'
"That gave me the confidence which I believed that I needed. I want to thank him for defending me, and giving me the words like a father, encouraging me, talking to me. He gave me more belief and I thank God for repaying him with these goals."
On the showing against the north Africans, Ighalo continued: "The team really worked hard, it is a good team performance and I am happy to score five goals in two games but it is an all-round performance and I am happy with the team performance.
"We are 99 per cent sealed the ticket to the Cup of Nations."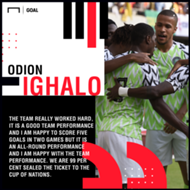 Ighalo returns to his China base with Yatai set to take on Beijing Guoan on Saturday.  He will hope to continue with his goalscoring haul ahead of Nigeria's next Afcon qualifying game against South Africa on November 16.