Friendlies
Zwane and Moloto to assist Ntseki at Bafana Bafana ahead of Zambia match
South Africa Chief Editor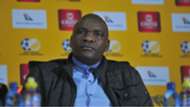 Bafana Bafana head coach Molefi Ntseki has confirmed the appointments of Kaizer Chiefs MDC coach Arthur Zwane and Mamelodi Sundowns head of scouts Trott Moloto as new members of his technical team for the match against Zambia this coming weekend. 
According to Molefi, both Zwane and Moloto have been appointed on the interim basis while he still finalises his technical team. 
Arthur Zwane and Trott Moloto will be assisting me for the Zambia game while I finalize my Technical Team - Ntseki pic.twitter.com/KyjYhDwDj1

— Bafana Bafana (@BafanaBafana) September 2, 2019
Zwane has been appointed as the assistant coach to Ntseki while Moloto assumes the technical advisory role for the international friendly in Lusaka. 
This means Zwane will be on the Bafana Bafana bench alongside Ntseki on matchday with Moloto expected to advise the technical team from time to time in the build-up to the match. 
However, the trio will be working hand-in-hand throughout the week in preparation for the 2012 African champions. 
Zwane, 45, is a student of the game having been in the coaching circles for the past eight years, while Moloto was the Bafana head coach at the 2000 Africa Cup of Nations (Afcon) in Mali. 
Ntseki said he decided to bring in Moloto to be a voice of reason to his side because of his vast experience both at a club and national team levels.   
"I don't believe it's all about me. I believe it's all about a collective. That is why I have also started engaging the PSL coaches. I felt we needed to have a scouting team and then a selection team," Ntseki told the media.  
"So, I have asked Sundowns to release coach Trott Moloto' who will be coming in as a technical advisor and coming in as a mentor because of his vast experience in the national teams' and because I have got a very good relationship with him as a legend of the game and a coach.  
"He is coming in to be a voice of reason in the side; somebody we can consult with' somebody who can share [ideas] so we can manage our players better," said Ntseki of Moloto. 
The 50-year-old mentor said Zwane's work ethic caught his eye, especially because he's been around for many years both as a player and now as a coach of Amakhosi's MDC team.    
"Coach Arthur Zwane has been around for years and I've worked with him since I started at Safa as he has gone through the coaching courses and been on the bench at Kaizer Chiefs' and he also played for Bafana Bafana," added Ntseki.