France
No Griezmann, no Pogba, no party! Snubbed subs save the day for France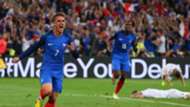 ---

COMMENT
---
For the second time in the space of five days, France got out of jail with seconds to go. This time Didier Deschamps had his two star players - whom he had snubbed from the starting line-up - to thank for keeping their Euro 2016 hopes riding high.
Antoine Griezmann's header might have lacked the spectacular appeal of Dimitri Payet's stunning winner against Romania, but it was greeted with an equally voracious celebration from les Bleus' camp as they finally broke a well-organised and determined Albania side. Late on, the West Ham attacker once again had the last word to secure a 2-0 success, but it was a sumptuous 70-yard crossfield pass from Paul Pogba that gave him another opportunity to be the hero.
It was a stark contrast to the start of the match. Atletico Madrid attacker Griezmann was consigned to the bench alongside Paul Pogba, who was punished for an over-extravagant performance in the opening match of the Euros by being dropped.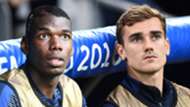 Deschamps had been considering dropping Pogba and Griezmann from his starting XI since last Friday. But despite the escalating rumours, few thought the head coach would actually axe both. 
Yet come kick-off against Albania, neither star was on the Stade Velodrome field. Instead, Deschamps turned towards the more youthful options of Kingsley Coman and Anthony Martial as wide attackers in a 4-2-3-1 formation.
France's performance in their opening match was distinctly lacklustre. It was largely put down to nervousness and a lack of experience, but there was little improvement in Marseille as they were frustrated by a team expected to be Group A's whipping boys.
There wasn't a single shot on target for France until Griezmann's goal in the 90th minute. Indeed, in the first half the closest they came to finding the net was an Olivier Giroud header that went comfortably high. Albania were the more threatening side, despite just 37 per cent possession.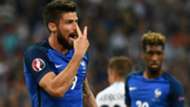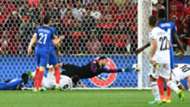 Deschamps was quick to appreciate that change was required and introduced the chastened Pogba. Slapped on the wrist, the Juventus man turned in a more measured display, save one attempt that was blocked from an extravagant distance. Indeed, he looked distinctly more composed.
And France improved, too. Coman immediately headed a good chance just wide, while Giroud was presented with two aerial opportunities, the second of which struck the post. Pogba might have scored too but a difficult strike went too high as he failed to control an awkward bouncing ball. There were other chances as the visitors tired, but these were persistently squandered.
This was a more vibrant France in the second half. Still, they did not look the impregnable tournament favourites they were billed as. Albania, too, struck the frame of the goal, albeit through France's own right-back Bacary Sagna, but they tired as Griezmann was introduced for the final quarter.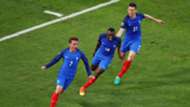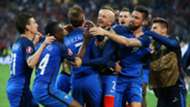 It seemed that the underdogs would get the point their efforts so richly deserved, and those in particular of Napoli full-back Elseid Hysaj. But their fatigued legs could not hold out, as Griezmann and Payet struck late on.
The goals were a dagger to Albania, who must beat Romania to stand even a slim chance of progression as one of the best third-placed sides in the tournament.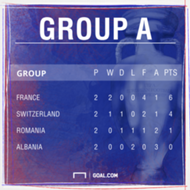 For France, though, their two late goals have made life considerably more straightforward. They are the first nation to be assured a place in the last 16, and now a draw against Switzerland in Lille on Sunday will secure top spot.
Deschamps' ploy to squeeze more from his side was ultimately successful, yet more is required if they are to become European champions for a third time.
Goal journalists are powered by the Samsung Galaxy S7 and Gear 360