Gareth Bale
Gareth Bale has the hopes of a nation on his shoulders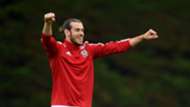 ---

COMMENT
---
Coming fresh from Real Madrid's 11th European Cup triumph only a fortnight ago, Gareth Bale is no stranger to major European football occasions. But on Saturday he will be treading new ground as part of a Wales side playing in its first tournament finals fixture in 58 years.
The Dragons open up their Euro 2016 campaign with a Group B clash against Slovakia in Bordeaux, with their return to the main stage for the first time since the 1958 World Cup coinciding not only with the expanded format of the continental championship but also with the rise to world prominence of Bale.
Since finishing fifth in a group of six in 2014 World Cup qualifying, Chris Coleman's side have finally started to live up to their potential. And much of that has been down to Bale. Having become the sport's first €100 million player in the summer of 2013 off the back of a sensational season with Tottenham, he has revelled in his surroundings at Real Madrid.
Two Champions League titles have been secured by the Blancos during a spell which has seen the winger overcome various issues both on and off the pitch to cement his place within the culture of Los Blancos. While there is clearly no parallel for Cristiano Ronaldo within the hearts and minds of those around the Santiago Bernabeu, Bale certainly belongs in the next bracket.
But when he takes the field at the Stade Nouveau de Bordeaux on Saturday, Bale will be experiencing something new. He might well have played the part of talisman to perfection during a qualifying phase which saw him net seven of Wales' 11 goals, including the all-important winner against Belgium in Cardiff, but finals football is undoubtedly a whole new animal.
The 26-year-old himself has predictably tried to talk down the one-man team angle. "It's never a one-man team. There's 11 of us for a start," he told a press conference on Thursday. "For us it's a squad thing. We're together stronger and it's there for a reason – we don't just say it for no reason. We all work hard as one unit – we attack as one and we defend as one. When we lose the ball we all fight back to get it.
"We all get on so well – we are like brothers. We are all friends and we joke around and play together but when it comes down to serious business we fight for each other."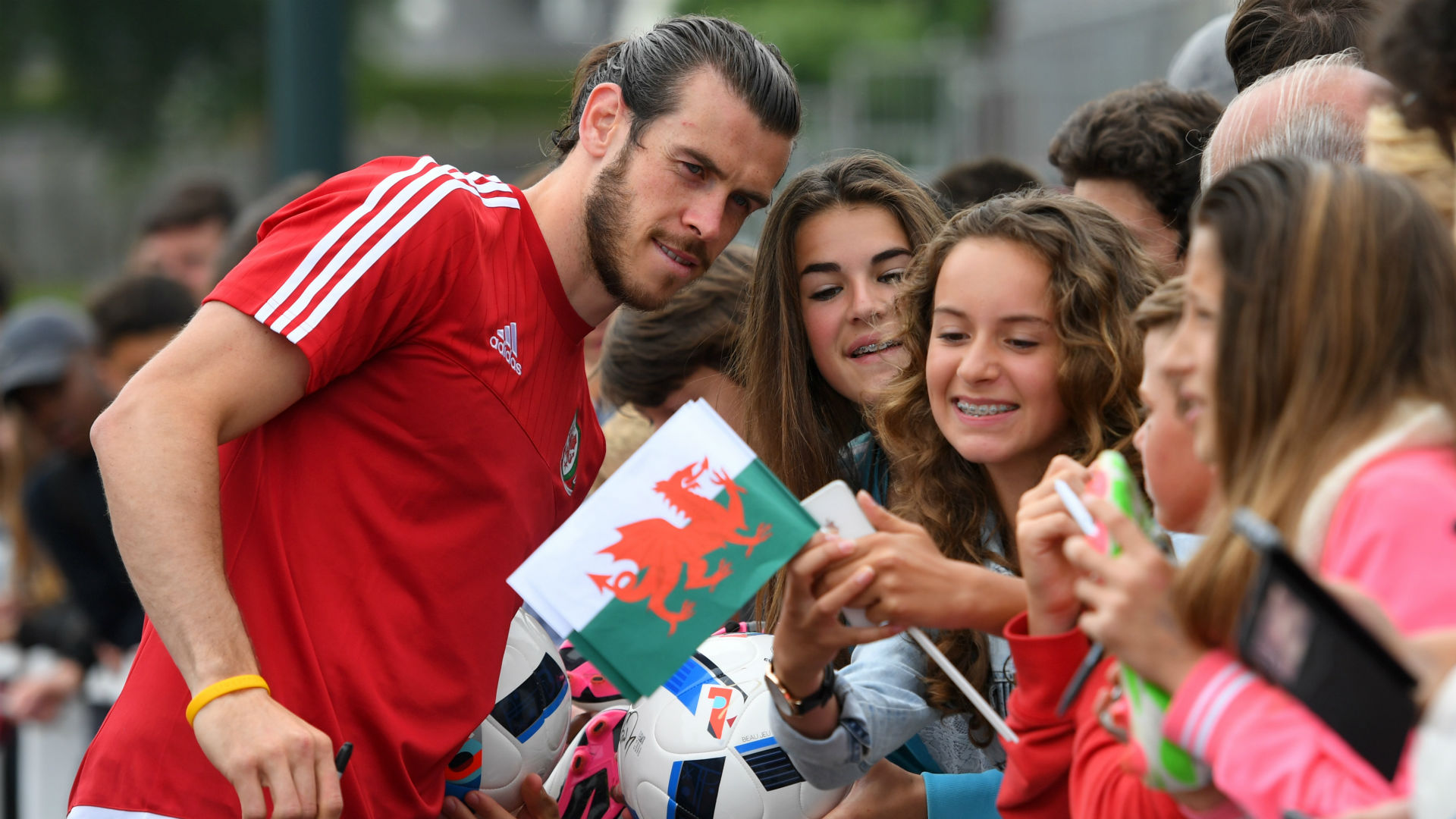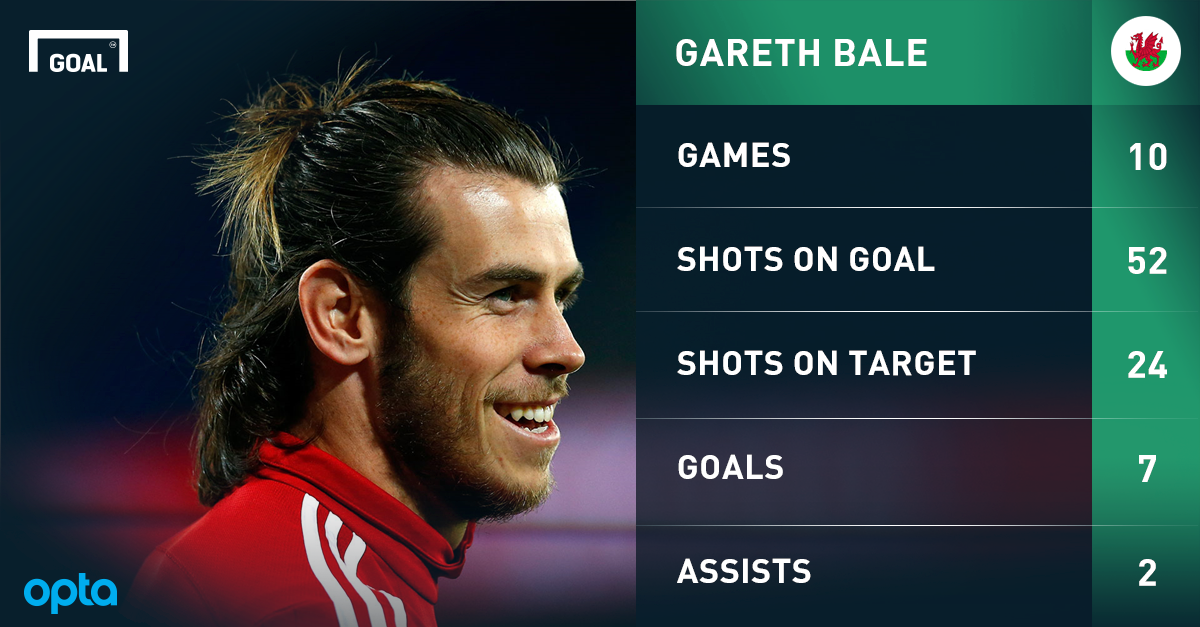 Not since his latter days at Spurs has Bale shouldered so much responsibility, with the presence of Ronaldo at Madrid having taken much of the attention – both positive and negative – away from him. With Wales over the next few weeks, he will have no such buffer.
While Arsenal's Aaron Ramsey leads a support cast of highly competent individuals, there is simply nobody who comes even close to Bale for both quality and importance. Asking Welsh fans who their favourite or most important player is would be the most redundant act any Bordeaux resident could possibly engage in as the hordes descend on the city this weekend.
His arrival in Spain three years ago may not yet have yielded another 26-goal season like the one at Tottenham which made up Madrid's minds in the first place, but his all-round game has arguably become all the more outstanding.
Often played away from the left-wing position which saw him excel in north London, his spell in the Spanish capital has nonetheless seen him produce with great regularity. Regardless of how much they paid for him and how desperately they might have wanted him to succeed, there is no way Bale would have retained such a prominent role in the Madrid starting XI for three years unless he was delivering week-in, week-out.
Now, though, comes perhaps his biggest test. A country which has seen names such as Ryan Giggs, Mark Hughes, Ian Rush, John Toshack and Neville Southall all miss out on the chance to represent their nation in a major tournament has finally returned to centre stage, and Bale is their main hope of progression beyond a group which will see them also take on England and Russia. To the man himself, this opportunity will surely be regarded as a privilege given the cast list of hundreds who have worn the Wales shirt before without experiencing what he will on Saturday.
Yet this tournament also represents a chance. It is a chance to lead from the front on the big stage: the chance to show Madrid that he's ready to become the icon and the ambassador of a team in major European competition.
With Ronaldo now at the age of 31, there is reason to be wary of a potential downturn in the Portuguese's powers, and the club would be far better served if they promoted from within when looking for their next iconic leader. This month, Bale gets his audition front and centre.
Gareth Bale is practically Wales' only hope of success at Euro 2016. And if he manages it, then his Real Madrid future can only be longer and brighter as a result too.