Celtic v PSG
Neymar-Mbappe-Cavani send out a Champions League message
Paris Saint-Germain made it clear they were serious about winning the Champions League when they swooped for Neymar and Kylian Mbappe this summer in a pair of deals the likes of which football had not previously seen.
The best part of €400 million will eventually depart the Parisian capital to fund the acquisitions of the two forward players, whose mission it is to bring the Champions League trophy to the French capital for the first time.
They might only have taken one small step as they defeated Celtic 5-0 in Glasgow on Tuesday, but it was a mightily impressive one.
Few teams visit Parkhead and win easily, yet by the interval Unai Emery's men already had the game in the bag, having netted all their goals without really giving the impression of hitting top gear.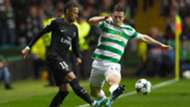 And there were goals for each of their new star forwards.
Neymar, while with Barcelona, tormented Celtic on the opening night of last season's Champions League campaign in a 7-0 rout and opened the scoring with an emphatic finish after a swift break. Mbappe soon battered home number two from close range.
Edinson Cavani, whose €65m price tag looks distinctly cheap next to his two new colleagues, got the third from the penalty spot five minutes before the interval. It was a goal that took him to 21 in Europe for PSG, a new record for the capital club.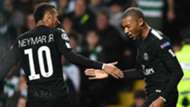 Number 22 came with an expert diving header after a Mikael Lustig own goal barely a minute previous.
Despite the scoreline, it was not an entirely polished performance from the front three against the Scottish champions, but it did not need to be. Opportunities were spurned after the break, most notably from Neymar, whose booking with quarter of an hour remaining may yet prove costly later in the competition.
Still, given that they have been together as a trio for little more than a week, they have the cohesion that should strike fear into the hearts of their rivals for Europe's biggest prize. The manner they rotate to provide different opponents different obstacles during the game is fantastic. The scope for improvement is astronomical.
Truly, this is a front three capable of taking the club to unchartered heights. And if they do, they will be worth every penny. Europe, take notice!