African All Stars
New Bafana Bafana midfielder Gift Links eyeing a move to Europe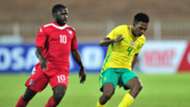 New South Africa international Gift Links has opened up about life in Egypt with Al Assiouty Sport.
The attacking midfielder secured a move to Egypt Premier League side Al Assiouty from Premier Soccer League (PSL) outfit Platinum Stars midway through the 2017/18 season.
Links went from the lifeless mountains of Phokeng in North West Province to the famous magical ancient structures in Egypt, North Africa.
"Seeing the pyramids for the first time was an incredible experience. Those things are humongous," Links told SowetanLive.
"It's just unbelievable that they were made by human beings. I knew a bit about them from school and reading history but I never thought that I would go there in person," he continued.
"I am from a small town in Rustenburg and I never thought that one day I would be staying in Egypt," he added.
The 19-year-old attacker, who was nurtured in the Stars academy, has been spending some time with his family during the current off-season.
"My parents were happy to see me after being away for the first time from them for months. They are proud that I am doing well and playing regularly there," he said.
"It's completely different to here at home. It's a cool country and has a lot of things that a person can explore," Links added. 
The left-footed attacker was able to adapt well in Egypt and has featured in 12 matches in the league.
"I have been learning Arabic. Not many people speak English there and even if they do, they don't like to speak it because they are proud of their own language," he said.
Links, who recently made his debut for Bafana Bafana in the 2018 Cosafa Cup, is now eyeing a move to France.
"Maybe in the next few years, if I can play in France, that would be a good place to start in Europe," he concluded.
Links signed a four-and-a-half year deal with Assiouty last January.