Mbao
Ndayiragije: Simba SC deserved victory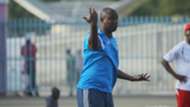 The Mbao FC head coach Etienne Ndayiragije has showered praise to Simba SC after their impressive 5-0 win on Monday in Dar es Salaam.
Ugandan Emmanuel Okwi scored twice while Ramadhan Kichuya, Erasto Nyoni and Nicholas Gyan were also on the score sheet.
The defeat leaves Mbao FC with 19 points just four points from the relegation zone while Simba SC has extended their lead on top of the table to eight points clear.
Mbao FC squandered their best chance of the match inside the opening 30 minutes, as Habibu Kiyombo, close range effort was kept out by Aishi Manula.
Speaking to Goal, Ndayiragije said that they were well beaten because they got some chances in the early stages of the game but they were not able to finish them.
"Simba is a big team to play against, we created our chances but we failed to convert them, something like that gives Simba the confidence and that is why they punished us due to our mistakes, so they fully deserve the victory," Ndayiragije said.