Africa Cup of Nations Qualification
Mwendwa: Stanley Okumbi is at Harambee Stars to stay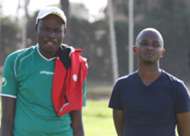 Nick Mwendwa has maintained that Stanley Okumbi will keep his job as Harambee Stars coach for 'many years to come'.
The FKF President now says he is willing to take the heat and protect the technical bench from persistent attacks by fans. "We did not pick Okumbi because the fans demanded us to pick or hire him and we cannot sack coaches because the fans want us to.
"I am ready to take the heat and protect their work and also make sure that Okumbi and his team have the best working conditions to do their work.
"We must learn to defend and appreciate our very own and that is why as a federation we are keeping hope with Okumbi and his team. Why bring on board a foreign coach to pay him salary in dollars while our very own coaches can do the same job and deliver results?"
Mwendwa admitted that the federation did not set targets for Okumbi that if not attained he loses his job. "We never hired Okumbi and told him to take us to African Cup of Nations finals...NO...!.he knows what he is supposed to do and we will support him.
"We want to build our very own technical bench and we will continue to support the same until they get the best results out there for people to see," Mwendwa said during an interview with a local TV station.