Transfers
Mourinho responds to report Napoli rejected €103m Manchester United Koulibaly bid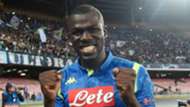 Jose Mourinho refused to be drawn into speculation over his interest in Napoli defender Kalidou Koulibaly following Manchester United's 2-2 draw with Southampton.
Mourinho found himself shorthanded in defence after injuries to Chris Smalling and Eric Bailly, with Victor Lindelof already sidelined, left the manager with just a pair of healthy centre-backs.
The result was Nemanja Matic and Scott McTominay, normally midfielders, lining up either side of Phil Jones in the heart of defence, and the Red Devils conceding twice in the disappointing draw.
The poor result came on the same day a report from Corriere dello Sport claimed Manchester United had a world-record bid for a defender of €103 million (£91m/$116m) rejected by Napoli as the club attempted to land Koulibaly. 
In his post-match media conference, Mourinho was asked about that rumour but refused to give a definitive answer on the matter, saying the Senegal international is another club's payer.
"I cannot answer to your question," Mourinho said. "If is true, if is not true, I cannot answer to your question.
"Maybe your question is the first one about the market and maybe the next press conference I have two more questions, and maybe the next press conference I have three more.
"The only thing I can tell you is Koulibaly is a Napoli player. And I don't speak about players from other clubs."
Koulibaly signed a new contract over the summer tying him with the Serie A side until 2023, but that has not stopped reports of teams trying to land the Napoli star.
The defender has reportedly drawn interest from numerous sources, including his former manager Maurizio Sarri, who now leads Chelsea.
Mourinho has long been reported to have been after a central defender, with links to Toby Alderweireld and Jerome Boateng popping up during the summer.
However, the Manchester United boss was left frustrated as the Red Devils did not land his targets in the market before the close of the summer transfer window.
Despite the presence of David de Gea, the Red Devils have conceded 23 times in the top-flight on the season, which makes them the sixth worst defensive side thus far in the Premier League.
Seventh in the table, 16 points off rivals Manchester City at the top of the table and six back of Chelsea for fourth, Mourinho's side are next in action Wednesday against Arsenal at Old Trafford.