Transfers
Schneiderlin reveals why he chose No.2 shirt at Everton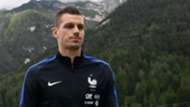 Morgan Schneiderlin has explained why he has chosen to wear the No.2 shirt at Everton after joining the club from Manchester United.
The Frenchman made the unusual choice after sealing a deal worth up to £24 million, selecting a jersey usually associated with full-backs despite being a central midfielder.
Simeone aims Ballon d'Or jibe at Ronaldo
But Schneiderlin revealed that his preferred shirt, the No.8, was already taken by Ross Barkley and left him with limited options.
"Number eight is my favourite but one of the great players here, Ross Barkley, wears that already," Schneiderlin told Everton's official website. "I respect him.
"I wanted to give the kit man a rest after putting Schneiderlin on the back. They wouldn't want a big number after that!
"A lot of squad numbers had already been taken and number two was free. I couldn't have 13 because of superstition and, after that, there was 36, 37, 38, which I think is too high.
"I will take the number two for now and, if it's good for me, I will keep it."
The highly rated Barkley has faced criticism - including from Toffees manager Ronald Koeman - this season on the back of some inconsistent performances.
Schneiderlin, however, believes he can help coax the best out of the talented Englishman by supporting him from a deeper midfield position.
"I want to help Ross," he added. "I want to help other players, that's my thing. I am a defensive midfield player, I get the ball back and find a forward player and feed them. I like to link up with players around me.
"I believe Barkley plays the number 10 role, so he will be in front of me. I want to feed him and the other players as well. Hopefully he will be what he is for many years, a great player.
Conte gives no assurances over Costa
"It has been very difficult [playing against him] because he is the kind of player who can dribble with both feet. Ross can shoot from far, he can find some good passes, he is always in the box.
"You always have to concentrate because he can go past people. He is very strong in the upper body and in the legs and so it is very hard being up against him."