Manchester United
Morata shows lumbering Lukaku how to be a real No.9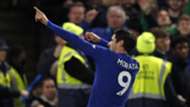 Given the protracted summer transfer saga involving Alvaro Morata and Romelu Lukaku which saw the former end up at Chelsea and the latter at Manchester United, it appeared inevitable that their first meeting would polarise their respective values in one way or another.
And on Sunday at Stamford Bridge it was Morata who showed Lukaku how to snap a goalless streak with a quality display of forward play, scoring the only goal in Chelsea's 1-0 win while Lukaku stretched his run without a goal to 567 minutes.
Morata's wonderful header from Cesar Azpilicueta's cross in the 55th minute settled a fascinating contest between two of England's biggest clubs, and it was no coincidence that it came at a time when United had been struggling to clear their lines for any significant period of time.
On two separate occasions in the moments building up to Morata's winner United had dealt with Chelsea attacking threats and cleared the ball into the home side's half. But first Lukaku watched on from short distance as Andreas Christensen headed away with ease, and then he completely mistimed a jump for a second challenge. Each time the Blues easily collected the second ball and built another attack, eventually breaking United down soon after.
Lukaku was not the only guilty party for United, with Henrikh Mkhitaryan also invisible for long periods. The Armenian playmaker has been way short of his best form for some weeks now and there had been some talk that he would lose his place to Jesse Lingard for the trip to west London. Jose Mourinho's reward for giving the former Borussia Dortmund man another chance was a further afternoon of frustration.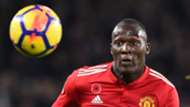 But it will be the difficulties of Lukaku which will be the greatest cause for concern to Mourinho, and Morata's performance was a timely reminder of what United gave up in order to snap up the Belgian. The manager might have come out in defence of the former Everton man over the last seven days, but Lukaku clearly needs to do more.
Morata's was a display of truly traditional No.9 forward play. With his back to goal he was an absorbing presence, taking the ball in his stride whatever the pressure around him and buying Chelsea valuable time in possession. And when it mattered he also had the final say in front of goal.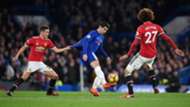 Antonio Conte will be delighted with the response of his players five days on from their 3-0 mauling at the hands of Roma in the Champions League. For United it was another reminder of the difficulty involved in negotiating the absence of Paul Pogba.
The Frenchman has been out for the last two months with a hamstring injury and United's play has suffered immeasurably. With their most natural link player on the break, Mkhitaryan, struggling, they need to be getting more out of Lukaku in an all-round sense. The lack of goals in his last seven appearances is almost becoming a secondary problem to his inability to influence games when his team need an out-ball. On Sunday, he touched the ball just 24 times - the lowest number for any starter - losing it on 10 of those occasions. He also failed to win a single free kick all game, while Morata won six.
As Premier League leaders Manchester City administered their latest cruise past high-profile opponents, United were lacking once more. There are now eight points between the Manchester rivals but it's starting to feel more like 18. And unless they can rely on their star striker to help them out when they're under pressure in key fixtures, the gap only looks likely to grow from here.