Chelsea
Morata can win Premier League golden boot, says Chelsea legend Gianluca Vialli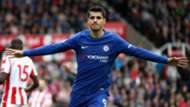 Gianluca Vialli has backed Alvaro Morata to fend over Sergio Aguero, Harry Kane and Romelu Lukaku in his race to become the Premier League's top goalscorer this season.
Morata 8/1 to be PL top scorer
Morata, who has scored seven goals in 2017-18, sat out Chelsea's 2-1 defeat over Crystal Palace at the weekend due to a hamstring injury but made his return against Roma on Wednesday.
The 24-year-old is wearing Chelsea's No.9 shirt as he did as Juventus and Vialli, Chelsea's former player-manager who also wore the No.9 shirt for both clubs, has been impressed with Spain forward's start to life in west London. 
"I've got no doubts that Morata can be there or thereabouts and win the competition as the most prolific striker in the Premier League," Vialli told Goal. "He has got a different style. He is not Diego Costa, there's only one Diego Costa in terms of being able to be effective and aggressive at the same time.
"He's not Lukaku because he hasn't got the physique of Lukaku but he is probably more effective in front of goal because Morata only needs a couple of opportunities to score. Lukaku normally is always there, which is a great asset for a striker but he might need two or three chances to convert one goal.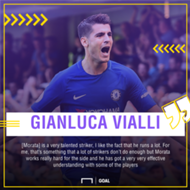 "I think Morata is likely more technical as well. Aguero, Gabriel Jesus, there's so many great strikers in our league and that makes everything so entertaining.  That's why I think the Premier League is the most enjoyable league in the world."
Vialli won the Champions League and Serie A with Juventus, while at Chelsea he led the team to five cup successes ahead of Roman Abramovich's big-money takeover in 2003. 
The 53-year-old moved to English football from Italy but he doesn't think that the £58 million striker is having any problems in showing his aggression in the Premier League. 
"I think that Morata is quite aggressive," he added. "Maybe not when he tackles but he is aggressive in his runs, he is always moving around and looking for the ball. Yes, he might have to adapt a little bit to the physical side of the game because in Spain and Italy, referees are much more receptive to a striker falling on the ground.
"I know Morata very well because he was at Real Madrid but he also played in Italy for a number of seasons. He is a very talented striker, I like the fact that he runs a lot. For me, that's something that a lot of strikers don't do enough but Morata works really hard for the side. 
"He has got a very, very effective understanding, an empathy if you like, with some of the players in the side. He makes forward runs and he knows where to run in order to receive some of the quality balls from Azpilicueta, for example, or Hazard or Fabregas.
"So he is very good and the fact that he played in Spain and Italy before he came to the Premier League has given him enough experience for how to play the game and to know what to do to become an immediate hit in the Premier League.
"He is scoring goals but I am sure that Antonio [Conte] wants more because he always demands more but I am sure that he is extremely happy with Morata's performances so far."