Monaco v Juventus
Monaco striker Mbappe touted as 'Henry's successor' by Trezeguet
Former Monaco and Juventus striker David Trezeguet sees Kylian Mbappe as a potential successor to legendary countryman Thierry Henry.
The Arsenal icon also graced the books of Monaco and Juve during his playing days, while tasting World Cup and European Championship success alongside Trezeguet.
Henry is now considered to be an all-time great and the man who sets the standard for other French forwards to follow.
'Monaco in better position than Juve'
Mbappe has offered enough in his short career to date to suggest that he is capable of reaching a similar level, with the 18-year-old talked up once again ahead of a Champions League clash with Juve.
Trezeguet told Le Parisien: "Mbappe is the player that Juventus will have to keep an eye on since he is very dynamic.
"I think he can become Henry's successor, he has it all. Time will tell in his case but I like him very much so.
"Falcao? He is a very good striker too, if you don't give him the respect he deserves he can punish you."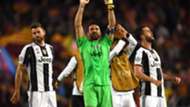 While Monaco boast plenty of firepower in attack, they will face one of the toughest defensive units in world football when they lock horns with Juve, with the Serie A champions boasting a collection of global superstars within their ranks.
"Juve's main strength is their defensive solidity, they are very hard to score on," added Trezeguet.
Mbappe glad to face veteran Buffon
"[Gianluigi] Buffon seems like a youngster, he is a superstar keeper. Alongside [Fabien] Barthez, they are the two best keepers I have ever played with.
"[Leonardo] Bonucci is the leader of [Max] Allegri's defence and he also starts up the play well too. [Giorgio] Chiellini is also really solid, he does more of the dirty work. Dani Alves and Alex Sandro adapted perfectly to their new team, they are hard to beat."
Monaco will welcome Juve to Stade Louis II for the first leg of their semi-final showdown on Wednesday.