MLS
MLS Talking Points: Zlatan braces for an encore, LAFC looks to rebound and more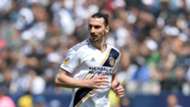 After pulling off the most memorable debut in Major League Soccer history, Zlatan Ibrahimovic will now face the task of trying to deliver a worthy encore.
He should have his chance Sunday, when the LA Galaxy play host to Western Conference co-leader Sporting Kansas City. Ibrahimovic scored two goals in a 19-minute cameo to lead the Galaxy to a stirring 4-3 comeback win against Los Angeles FC, and he could earn his first start Saturday after going through a full week of training.
LAFC will look to erase the bad taste of last week's collapse by going on the road and beating an Atlanta United side that has yet to drop points at home this year. Bob Bradley will want to ensure his team doesn't let the disappointment of its derby defeat against the Galaxy produce a costly hangover against a dangerous Atlanta team that will be dealing with a shorthanded defense.
FC Dallas is one of two remaining undefeated teams in the league — New York City FC being the other — and Oscar Pareja's men will look to stay that way at home against a Colorado squad looking to build off last week's impressive 3-0 win against Philadelphia.
Here is a closer look at the key talking points for MLS Week 6:
---
WHAT WILL ZLATAN DO FOR AN ENCORE?
---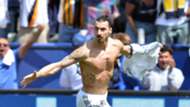 A wonder-goal for the ages, a last-minute game-winner and a completed comeback win in the first installment of a new LA derby. Zlatan Ibrahimovic's MLS debut couldn't have gone much better, but now the Swedish star will be expected to keep delivering magic as he settles in with his new team.
Ibrahimovic will have his chance to impress again Saturday, when the Galaxy face a Sporting Kansas City squad coming in on a four-match unbeaten run.
Galaxy boss Sigi Schmid will have to decide whether Ibrahimovic is ready for his first start since joining the team a week ago. If he does start, Ibrahimovic will be facing one of the toughest center back pairings in MLS in reigning Defender of the Year Ike Opara and former U.S. World Cup defender Matt Besler, as well as MLS Goalkeeper of the Year Tim Melia.
"He's continuing to work," Schmid told reporters when asked about the chances of Ibrahimovic starting. "We'll make that decision as we get closer to the game."
Opara and Besler present a tougher challenge than LAFC provided a week earlier with the tandem of Laurent Ciman and Dejan Jakovic. That said, Sporting KC is fully aware that Ibrahimovic is capable of making any defense look silly.
"I don't know what the exact dimensions are, or measurements of Zlatan, but I believe he's 6-5, probably 230, and when he steps onto the field he's probably the most skilled player," Besler told reporters Thursday. "Does that ever happen? To be 6-5, 230, and to be the most skilled player on the field? Probably not, and so he's a different player than you'll ever go up against."
For his part, Opara isn't about to ignore the presence of Kamara, an established goal-scorer in MLS who will now have the advantage of defenses focusing their attention on Ibrahimovic.
"(Ibrahimovic) has my attention, but really I'm tired of Ola Kamara scoring on us," Opara told the Sporting KC Show on Tuesday. "As much as we want to talk about Zlatan, Ola Kamara has given us trouble in the past as well. You can't overlook the personnel they have on their team, and obviously they just got better with the addition of Zlatan."
Sporting KC's defense has allowed nine goals in five matches to start the year, a much higher rate than last season when SKC finished with the league's best defense. But last week's 1-0 win against D.C. United showed a Sporting KC side that still has the qualities to make things difficult on opposing attacks.
The Galaxy are still likely to be without injured French winger Romain Alessandrini, while brothers Jonathan and Giovani dos Santos are closer to returning after sitting out last week's win against LAFC. If they do start Sunday, it would go a long way toward helping Ibrahimovic build on his dream MLS debut.
---
---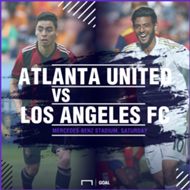 Two of the best attacks in MLS square off at Mercedes-Benz Stadium on Sunday when Los Angeles FC takes on Atlanta United in what is shaping up to be a wild one.
LAFC comes in off a heartbreaking loss to the LA Galaxy, but Bob Bradley's team has had no time to dwell, not with Atlanta's high-flying offense presenting a stiff test in a clash of teams with similar traits.
"Atlanta is a team with great attacking players," Bradley said. "Early in our season we have also shown that we've got some guys capable of doing some special things. In those ways, there are some similarities. I think we're also trying, over time, to make sure we're a complete team.
"That's why I talk over and over about what happens in the midfield, the way we can control games, the way we can close down and make it hard on other teams in the midfield," Bradley said. "I still think we have to work in those ways, because I haven't seen enough of that consistently over 90 minutes."
It's easy to forget that LAFC played some outstanding soccer in the first 60 minutes against the Galaxy. Carlos Vela and Diego Rossi will be going up against a shorthanded Atlanta defense that will be missing suspended center back Leandro Gonzalez Pirez, and could be without veteran Jeff Larentowicz.
Atlanta has won three straight matches since a season-opening blowout loss in Houston, with the Miguel Almiron-led attack finding its rhythm. Bradley will look to neutralize Almiron, and could turn to Eduard Atuesta to make his first start in central midfield to help contain the Paraguayan playmaker.
---
MATCHUPS TO WATCH
---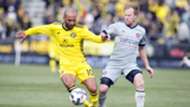 Federico Higuain vs. Dax McCarty. The Crew attack thrives when Higuain is in top form, and McCarty will need to contain the Argentine playmaker if the Fire are to record their first win of the season.
Ola Kamara vs. Ike Opara. Kamara has had his share of success against Sporting KC in the past, and Opara will look to stop that. That is unless Ibrahimovic starts, which would then likely lead to Opara trying to contain the Swedish superstar.
Sacha Kljestan vs. Diego Chara. The Timbers are without injured starter David Guzman, putting even more of the onus on Chara to try and keep Kljestan from finding a comfort zone, which would spell trouble for Portland's defense.
Miguel Almiron vs. Benny Feilhaber. There are few players more dangerous than Almiron when he's playing at home, and it will be up to Feilhaber and Mark-Anthony Kaye to keep him from running wild, unless Bob Bradley decides to give Eduardo Atuesta his first start.
Kei Kamara vs. Justen Glad. After a first month that saw him be one of the best in MLS, Kamara will now look to outduel one of the top young defenders in MLS.
Albert Rusnak vs. Felipe Martins. The Whitecaps will send Martins right at Rusnak, who is the key to RSL's attack. This should be one of the weekend's most tenacious matchups.
Cristian Penilla vs. Victor Cabrera. Penilla has quietly been one of the league's more impressive newcomers, while Cabrera has thrived in the Impact back line since Remi Garde took charge.
David Accam vs. Nick Lima. San Jose's second-year fullback is off to a good start to his second season, but he's got a stiff challenge trying to contain the speedy Accam.
Borek Dockal vs. Florian Jungwirth. Union fans who have been waiting for a playmaker to lead the attack will have their eyes on Dockal, who won't have it easy as he tries to get away from Jungwirth.
Roland Lamah vs. Marlon Hairston. Lamah has gotten off to a good start in 2018, but he won't have an easy challenge against an athletic wing back in Hairston.
---
WEEK 6 PREDICTIONS
---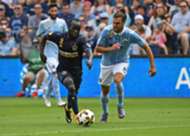 REVOLUTION 1, Impact 0. Revs goalkeeper Matt Turner has been on a tear, and so has Cristian Penilla, and both should be key to a Revs home win to halt Montreal's two-game winning run.
Atlanta United 2, LAFC 3. Bob Bradley would probably love to avoid another shootout, but with Atlanta's defense shorthanded, it's tough to see this one not winding up with plenty of goals.
UNION 2, Earthquakes 1. The Union defense was battered last week, but a trip back home should help Jim Curtin's side regroup, while C.J. Sapong could prove to be too much for San Jose's defense to handle.
FC DALLAS 2, Rapids 0. After a week off, Dallas should be rested and ready to roll offensively, with wingers Roland Lamah and Michael Barrios poised to take advantage of the Rapids on the wings.
FIRE 2, Crew 2. Chicago's attack has started to look better, but the defense remains a question mark, and Gyasi Zardes should have himself a game to help the Crew take a road point while keeping the Fire from their first win of the season.
REAL SALT LAKE 2, Whitecaps 1. Mike Petke was irate after last week's home loss to Toronto FC, and if RSL is going to be taken seriously this year it will need to stop the bleeding at home. Jefferson Savarino and Albert Rusnak will lead the way in a much-needed win.
ORLANDO CITY 3, Timbers 1. With a healthy Dom Dwyer back in the fold, and Sacha Kljestan pulling the strings, the Lions attack should get the three points.
GALAXY 3, Sporting KC 1. The SKC defense has shown some real vulnerabilities in 2018, and a healthy Ibrahimovic-Kamara combo will prove too much for the visitors to deal with.