MLS
MLS Spotlight: A.J. DeLaGarza delivering experience and stability in Dynamo resurgence
12:44 PM GMT+8
06/04/2017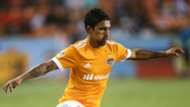 To say A.J. DeLaGarza's offseason was a roller coaster of emotion is an understatement.
The 29-year-old defender had spent the entirety of his MLS career with the LA Galaxy, winning three MLS Cups. But as 2016 came to a close, he felt a change of scenery was needed.
"The season didn't go the way I had hoped last year in the sense I was pulled out in crunch time, the playoffs," DeLaGarza told Goal. "I was obviously disappointed but at the end of the year I was looking to get traded, to go somewhere where I could play and make a difference."
MLS Power Rankings: Crew, NYCFC rise
DeLaGarza said he was hopeful he would have some input in where he moved and added there was interest in his services in both conferences. Yet the Galaxy didn't seem interested in parting ways.
"After all the talks with the staff there, they made it clear they wouldn't trade me," DeLaGarza said. "So I was back on board being in LA and doing what I could to get back on the field there. Then out of nowhere, I got traded."
As it turned out, talks had been taking place. The Houston Dynamo were one of the teams interested and had been for a while, according to general manager Matt Jordan. When the chance finally came for the organization to land DeLaGarza, Jordan said it was something he had to act on.
"Discussions were going on for quite some time," Jordan told Goal. "It kind of stalled for a bit and then it really heated up again around the draft. But when the opportunity came to add A.J. DeLaGarza to our roster, we felt it was an important addition and we wanted to move quickly."
The Dynamo, coming off their third straight postseason miss, were looking to change the culture of the organization in an attempt to recapture the success of its first decade in Houston. That era saw the team win a pair of MLS titles in 2006 and '07 and lose out in the MLS Cup final in 2011 and '12 — both times to DeLaGarza and the Galaxy.
Being a key contributor on a perennial contender was exactly what made DeLaGarza so appealing to Jordan and the club.
"What stands out about A.J. is he fits the mold of what we outlined as our offseason targets, which was to add more leadership, more of a winning mentality to the locker room and to the field, and also a top professional and a top person," Jordan said.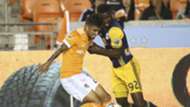 For DeLaGarza's part, while the Dynamo had been down, he remembered they were the team the Galaxy faced in two of those three MLS Cup wins. That and his desire for a fresh start made it easier to look past the club's recent struggles and offseason turmoil after parting ways with interim coach Wade Barrett, a move that angered many Dynamo players.
"All the speculation with Wilmer (Cabrera) coming in to the Dynamo and not too many people agreed with that — people spoke out about it," he said. "I'm sure they have different opinions now."
Winning will change people's minds and the Dynamo have done plenty of that to start the 2017 season. Houston has won three of its first four contests, with victories over the New York Red Bulls and the reigning MLS Cup champion Seattle Sounders. The team's only defeat was a hard-fought loss in Portland.
While the caveat is that the victories have come at home, in 2016, the Dynamo won just one of their first three home games and didn't win their third game total until May 15. Although Houston still has plenty to prove, the improvement under Cabrera is clear.
Is Jermaine Jones still worthy of U.S. spot? 
"He's a coach that's very aggressive. He wants us to play aggressive and vary our chances," DeLaGarza said. "We go over our tactics every day. He's a very defensive-minded coach but on the flip side, he wants us to get forward and attack and attack. We have the players to do that and I think he's using the players in the best formation we can use."
It's a different situation than with the Galaxy under Bruce Arena, the only other coach the defender has played for in MLS. Though DeLaGarza emphasized "coaching is coaching," the situation in Houston requires a different intensity when it comes to tactics and training due to the offseason changes in the squad. Houston has multiple new faces, and everyone is still working to learn their coach and each other.
It's a tricky spot, but DeLaGarza, who has started all four of Houston's games this season, credits Cabrera with his setup, allowing the attacking players to receive the ball in situations where they have even numbers against the opposition back line. Aside from tactics, DeLaGarza sees a belief in the side that comes from up top.
"You see Cubo (Torres), who hadn't scored a goal in two years, scores six in four games," DeLaGarza said. "Wilmer's given him the confidence. Although he's the goal scorer, (Cabrera's) given everyone confidence and I think it's showing in our results."
While the focus on Houston is rightly on the resurgence of Torres, the back line holding its own is essential when the front three are being held up high. DeLaGarza has contributed to that in the right-back spot. He's made eight interceptions and 17 recoveries, and he also has completed five of nine crosses. All three stats are improvements on those from last year's starter, Sheanon Williams.
Jordan spoke of how DeLaGarza's contributions should not be overlooked, even as Houston's attack dominates headlines.
"What we really like about A.J. is he takes a lot of pride in defending," Jordan said. "He's been a very steady presence. There's been a lot of talk about our offseason acquisitions on the attacking end but for us as a club, we feel that A.J.'s been one of the most important additions to our team this season."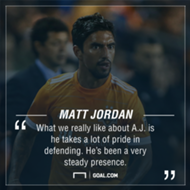 Jordan frequently mentioned DeLaGarza's professionalism and winning "mentality," something he brings to the table in games, in training and in the locker room. As a veteran, that mentality and experience manifests itself in keeping sight of the big picture.
DeLaGarza knows that he and his teammates have caught the league a bit by surprise. He also knows adjustments from opponents are coming, but noted he and his teammates are still learning to play together and will make changes of their own as they find what works and what doesn't.
In the meantime, the defender is getting used to life in Texas. He's adjusting to living in the suburbs, no longer a mile from the beach. It's a change, but DeLaGarza is "enjoying his space," though he hopes to find some restaurants he likes nearby. His family also has settled in nicely, though the Texas heat in the summer months is when "the tough part will come."
The summer months will also bring his first meeting with the Galaxy. The Dynamo visit Los Angeles on June 17. DeLaGarza still pays attention to his old team, which is struggling to start 2017, with the Galaxy having landed just one win in four games.
"I still have a lot of friends on the team, so I'm watching as a fan of the team," DeLaGarza said. "And yeah, I've seen the results."
Naturally, DeLaGarza is looking forward to that game at StubHub Center, even if he knows the focus has to remain on the many contests Houston has between now and then.
"I think when any player gets traded from a team they have a history with, that's one of the first games you circle on your calendar," he said. "But it's a still a couple months away and we've got a lot of games before that.
"But it's a game I'm excited about, going back to LA and I'm sure the fans will embrace me when I come back. I'm still getting a whole bunch of Twitter and Instagram messages about coming back, but I'm enjoying it here."