MLS
MLS changes rules regarding Canadian players as part of development initiative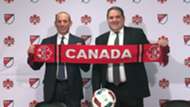 A limited number of Canadians will now count as domestic players in Major League Soccer, the league announced Wednesday.
Sporting KC gives Peter Vermes a contract extension
The change was announced as part of a larger initiative taken together with the Canadian Soccer Association and officials working the league's three Canadian teams in an attempt to improve youth development for Canada.
Previously, Canadian players only counted as domestic in MLS if they played for one of the Canadian-based sides: Toronto FC, the Montreal Impact and Vancouver Whitecaps. Otherwise, Canadian players counted toward U.S.-based teams' international player restrictions.
But the rule change now will make any Canadian player domestic to U.S.-based sides provided he is a homegrown player who joined an MLS academy or CSA-approved youth club in the year prior to the year he turns 16 and that player's first contract was with either an MLS or USL side.
MLS added in its statement that it will work with the CSA to determine what teams fit the "approved youth club" designation and that a team does not need to be affiliated with an MLS team to qualify. Currently only nine players qualify.
MLS also announced a Canadian-specific Generation Adidas program as part of the larger youth initiative. The league and CSA will work together to identify Canadian players who would then be signed to contracts and made available in the MLS SuperDraft.