MLS
MLS delay expansion announcement as Cincinnati, Detroit & Sacramento await fate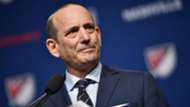 Major League Soccer announced Thursday it will name another expansion team in the new year — with Cincinnati, Detroit and Sacramento hoping to win the bid.
A day after adding Nashville as the league's newest city, MLS is forcing the three remaining cities to wait patiently as they decide which one will be awarded the 25th franchise.
"Following the announcement of Nashville as our newest club yesterday, Major League Soccer remains in discussions with the other three finalists for the next team to be awarded during this round of expansion -- Cincinnati, Detroit and Sacramento," read a statement.
"All three submitted impressive bids which the league will take additional time to review before announcing a final decision in the new year."
Major League Soccer's statement regarding expansion: pic.twitter.com/SW8lASUeri

— Major League Soccer (@MLS) December 21, 2017
MLS is quickly growing with LAFC beginning play in 2018 as the 23rd team, but Nashville's first season is yet to be determined.
Sacramento is considered the favorite to be the 25 team in MLS, as the city already has plans to build a stadium. Miami is hoping to join the league in 2019, but the ownership group led by David Beckham has had issues acquiring a site for the stadium.