Mexico
Alan Pulido injured in Mexico's friendly win, likely to miss Gold Cup
12:00 PM GMT+8
02/07/2017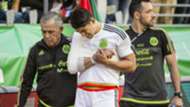 Mexico's Gold Cup attack took a big hit Saturday night, with striker Alan Pulido forced off the pitch with an arm injury just before the hour mark.
The Chivas striker was in a battle for the ball with Paraguay's Luis Cardozo and took an awkward spill, falling on his arm and leaving the pitch with his right arm tightly bound against his shoulder and a noticeable grimace on his face. 
Match report: Mexico 2-1 Paraguay
ESPN and TV Azteca both report that Pulido suffered a fractured arm, an injury that would rule him out for the Gold Cup, with Mexico's second tournament of the summer set to kick off July 9 against El Salvador.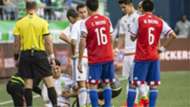 Mexico's depth was already set to be tested this summer. El Tri have a match Sunday in Russia against Portugal, with manager Juan Carlos Osorio's top side looking to close out the Confederations Cup with a win in the third-place match, with the second unit taking a 2-1 win over Paraguay on Saturday night in Seattle. 
The Gold Cup squad looked likely to rely on Pulido as one of its main threats, at least through the group stage, with the more established attacking threats for Mexico, like Bayer Leverkusen's Javier "Chicharito" Hernandez and Benfica's Raul Jimenez having taken part in the tournament in Russia.