Mexico
How will Mexico line up against the United States?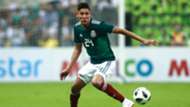 Things aren't getting any easier for Ricardo "Tuca" Ferretti. The Mexico interim manager watched as a young team suffered a 4-1 loss to Uruguay on Friday, and he now has to turn around and get ready for a rivalry clash with the United States on Tuesday.
Ferretti already had a limited squad with a majority of Mexico's World Cup veterans staying with their clubs rather than coming in for the first international dates after the tournament. His options are even fewer with Standard Liege goalkeeper Guillermo Ochoa and PSV duo Hirving Lozano and Erick Gutierrez heading back to Europe straight from Houston rather than traveling to Nashville to face the U.S. On Monday, the federation announced Chivas midfielder Orbelin Pineda is traveling back to Guadalajara after suffering a leg injury. Wolves forward Raul Jimenez is likely to travel back to England rather than take part in Tuesday's contest, leaving Ferretti with just one Europe-based player in the squad. 
As Goal does before each Mexico match, we've put together three projections of what El Tri could do in Tuesday's match. Check back an hour before kickoff for Tuca's starting lineup and more news:
---
Giving young players a shot
---

There is good reason to believe Ferretti will change his starting XI but not the 4-4-2 formation he started out with against Uruguay. "I'm going to talk and plan with my players to put together a tactical plan. Players in the starting lineup for Tuesday, yes, you're going to see a lot of changes," Ferretti said after Friday's defeat. "You're going to see a lot of changes because I want to see all the elements brought in for these two international matches. I'm also going to count on the others if I need to make a change or there's some other situation."
Four changes, replacing Ochoa, Lozano, Gutierrez, and Jimenez will be mandatory. A complete overhaul is possible. This lineup gives a start to every player who didn't see any minutes against Uruguay, except goalkeeper Hugo Gonzalez. In goal, Gibran Lajud gets the nod. The 24-year-old Club Tijuana No. 1 has been promising and is a more forward-thinking choice than Gonzalez, who is four years his senior. Don't be stunned to see the 'keepers each play a half with both earning their debuts.
At the back, left center back Oswaldo Alanis is one of few center backs on the roster and could use the boost after a tumultuous summer that saw him sign with a La Liga club and then get sold before he played a minute. Edson Alvarez is with him, allowing for Jose Abella to make his debut. Abella's Santos Laguna teammate Gerardo Arteaga also could earn his first cap as the other outside back.
In the middle, Diego Lainez should get to build on a strong debut with his first-ever start, with Jonathan Gonzalez joined by Victor Guzman in the middle. It may be more likely for Roberto Alvarado to play on the left wing rather than Erick Aguirre, but the Pachuca player gets the spot by virtue of our rule of inserting everyone who didn't play against the South Americans. Alvarado also could play up top, as he did for the first portion of his substitute appearance Friday. For now, we've put Alan Pulido back in the starting XI along with his Chivas teammate Angel Zaldivar.
---
Experience with a twist
---

This lineup sticks with "experience," though we're putting that in quotation marks because there aren't all that many players who have a lot of experience available to Ferretti on this roster. In goal, Gonzalez has been a starter in Liga MX for several years but behind Ochoa, Jesus Corona and Alfredo Talavera is still seeking his Mexico debut. He could start, but for now we've got Lajud there as well. The back line would lean on World Cup fullbacks Alvarez and Gallardo, with Tigres center back Hugo Ayala (the oldest player left in camp) and Alanis (the third-oldest) as the center-back pairing.
Jonathan dos Santos is coming off a World Cup appearance, but he struggled against Uruguay last week. With Pineda pulling out of the squad Monday, though, there aren't that many options in the middle of the field.
Another option would be for Ferretti to stick with his 4-4-2, using this lineup but dropping Guzman in favor of another forward. Seeing the versatile Pachuca player put in a playmaker shift would be exciting for Mexico fans, though, and he'd have plenty of options to combine with up front.
Ferretti said after the defeat to Uruguay that the team would play more or less the same way Tuesday as it did last week, but a 4-4-2 limits what Mexico can do. This formation would allow El Tri to be more adventurous and perhaps let them exploit a young U.S. defense.
---
Back to the norm
---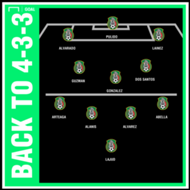 It doesn't seem like Ferretti is really pondering this, and there aren't enough World Cup veterans in the team to make it matter that Mexico spend loads of time working on this formation in the previous cycle. With that said, going back to the 4-3-3 that Mexico often favored under Juan Carlos Osorio would lead to a decent showcase of young talent with enough experience to help the club get a win.
Dos Santos and Guzaman line up on either side of Gonzalez, who never played this defensive of a role under Osorio. At the back, there are debuts for the Santos players once again, while Alanis and Alvarez combine in the middle. Up top, the future surrounds Pulido with Alvarado and Lainez able to get further forward and run at the outside backs then decide whether they'll look for their own opportunity or find Pulido in the box.
It may or may not be a comfortable look for Mexico, but it's one that might be worth trying given the players available in the squad.