Mexico
Mexico national team to play summer friendlies in Los Angeles, New York area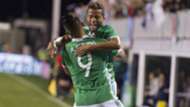 Mexico will prepare for its June World Cup qualification matches and trip to the Confederations Cup with two friendlies in the United States, Soccer United Marketing announced Tuesday.
El Tri are set for a preparation match against Croatia on May 27 in the Los Angeles Coliseum and another against Ireland on June 1 at MetLife Stadium. A week after the Ireland match, Mexico hosts Honduras in a World Cup qualifier at the Estadio Azteca, takes on the United States in the same stadium three days later and then heads to Russia for a June 18 opener against Portugal in the Confederations Cup.
Mexico dealt a blow with U-20 defeat
With the busy schedule approaching in the summer, these games likely will see many of Mexico's top players, unlike a 1-0 friendly win over Iceland this month that didn't take place during a FIFA international window.
The May game against Croatia will be the first time Mexico has played the Adriatic nation since the 2014 World Cup, when Miguel Herrera oversaw a 3-1 victory to take Mexico into the knockout rounds of the tournament. Mexico also topped Croatia at the 2002 World Cup in Japan.
Five Things We Learned from Liga MX
And while Mexico has won one and drawn four of their all-time matches against Ireland, the game in the New York City area will be the first time the teams have crossed paths since 2000.
Mexico last played in the Coliseum in a March 2015 friendly win over Ecuador and later that year played at MetLife Stadium, topping Costa Rica in extra time of a Gold Cup semifinal.