Mexico
Mexico national team once again a refuge for struggling Marco Fabian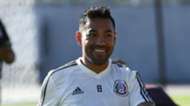 You can see it from the smile on Marco Fabian's face. The midfielder is happy, joyous, to be in the Mexico national team's training sessions.
If that's not proof enough, there are the social media posts like the one he posted Tuesday of him nutmegging Raul Jimenez and Diego Reyes during a rondo.
The national team once again is serving as a kind of refuge for Fabian. It's been a rough summer for the 29-year-old. After you play in the World Cup, you're supposed to move on to bigger things. But even his time in Russia could have been frustrating. After appearing in three matches in the 2014 World Cup, Fabian came on only in Mexico's 3-0 loss to Sweden to close out the group stage. El Tri already were trailing by two goals when he made his way onto the pitch. 
Perhaps, though, Fabian was simply happy to be on the field at all. A back injury that cut short his 2017-18 campaign left him hardly able to walk, much less play soccer at a competitive level. However, he fought back, returned to the Eintracht squad and earned his place in Juan Carlos Osorio's 23-man roster for Russia.
He insists those back problems are behind him, but others aren't so sure. After Eintracht manager Adi Hutter made it public knowledge in August that he viewed Fabian as surplus to his team, the former Chivas star looked for an exit and found one in Turkey. He agreed to a move to Fenerbahce, where he could link up with fellow Mexico player Diego Reyes and play in the Europa League. But the move fell through at the last minute. The Turkish club said it was because of Fabian's back, while Fabian and his camp were adamant that the club had attempted to change the contract at the last minute, causing the deal to collapse. 
"I did the exams, I passed them, everything was excellent and that's when they wanted to change certain points in my contract that neither myself nor my agent agreed with," Fabian said this week. "They were economic things, bonuses, we didn't want to stay like that and they tried to put out excuses about my back."
The end result was Fabian being stuck at Frankfurt. There was a moment of hope after Hutter included him in the starting XI against Borussia Dortmund on Sept. 14.
"I'm fighting for a place in the team, and that's no surprise – you win your spot like this," Fabian told the Bundesliga's official website. "Everyone knows I've had a lot of problems in the last few weeks, but now my head and my mind are in the right place and I'm happy to be in the starting XI once again."
That was the last time he's played for Frankfurt. He's made the bench just once since then and is not even eligible for Frankfurt's Europa League matches, having been omitted from the squad.
Despite the lack of club playing time, accepting the call-up from interim El Tri boss Tuca Ferretti is a bit of a risk from Fabian. That start against Dortmund developed after he stayed back in Germany during the international break and scored in a friendly. However, the national team always has been a place for Fabian to experience moments of joy. He wore the Olympic gold medal around his neck in 2012 and has celebrated incredible goals scored in the Confederations Cup, Gold Cup and friendly matches.
¡Buen zurdazo, @MarcoFabian_10! 💥

Ahora entrenamos tiros al arco. ✅#PasiónyOrgullo pic.twitter.com/qWenybUhE4

— Selección Nacional (@miseleccionmx) October 9, 2018
It's a big change for a player who a decade ago was expelled from a Mexico camp because of indiscipline. Now, few appear to be working harder than Fabian. He fought back from injury, continues to learn and speak German to facilitate his adaptation to the Bundesliga, and is trying to stay in shape to get to one more World Cup before his career draws to an end.
"I'm going step by step. I know I can get to my third World Cup, to 2022, but I'm going to take this process on calmly," he said. "I know that right now I'm in a squad for a pair of friendlies, but I want to go step by step."
At this point, it's the only thing Fabian can do. Keep working, hope his club situation improves in the winter and enjoy the time he has with El Tri.