Mexico
Mexico defense overwhelmed as Confederations Cup dream ends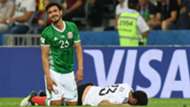 In the first minute of Thursday's Confederations Cup semifinal, Mexico defenders sent the ball directly to Germany attackers three times. It hardly got better in the following moments as Leon Goretzka torched El Tri once, then again to put the Europeans up 2-0 before the clock read nine minutes.
There was a choice to make for coach Juan Carlos Osorio: continue to play the game he was hoping to play, as he did against Chile in the Copa America Centenario quarterfinal that resulted in a 7-0 defeat, or shut it down, sit back and avoid another lopsided and embarrassing defeat.
He elected to stick with his plan. But despite much better soccer from minutes 20-45, the team didn't see the fruits of their labor, unable to apply a finish to beat Marc Andre ter Stegen to pull a goal back and put hope back into their hearts before halftime.
"It hurt us and I think more than the pressure there were moments of inattentiveness that they found and took advantage of what they had," Oswaldo Alanis, who played left back in the defeat, told TV Azteca of the first two goals. "It changes the whole game for you, all the planning. We tried to play our soccer but it's not the same when you're 2-0 down after just a few minutes."
Timo Werner put the dagger into Mexico's back in the 59th minute and while Marco Fabian scored a beautiful free kick to get Mexico on the board, Germany showed just how superior it was by quickly answering to close out a 4-1 victory and move into the final where it will face Chile.
Mexico's attack may only have found a late goal, but there's no doubt that this defeat goes down to a defense that hasn't been good enough all tournament. El Tri had to come from behind in each group game, and the attack knew once again it would have a tall task after Goretzka's early double.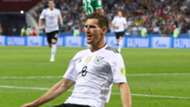 After recovering from injury and playing well in the final group game against Russia, Hector Moreno turned in his worst showing in Mexico's green shirt in recent memory, losing track of Goretzka on the first goal and letting eventual assist-provider Benjamin Henrichs by him as Germany built the second goal. Alanis again struggled on the left side, providing Moreno little help. And while the right side wasn't culpable for the first two goals, the third rests at the feet of Nestor Araujo and Miguel Layun. Layun chases after the same man Araujo is defending before realizing Jonas Hector was behind him and was in to set up Werner.  
Osorio will come in for criticism and likely come out fine, at least ahead of the Gold Cup now just more than a week away. The general squad selection questions may center around why Carlos Vela wasn't part of the starting XI and, in fact, never entered into the game. Or perhaps it will be that his substitutions did little to change things, mostly keeping Mexico in the same system and doing the same thing that was yet to yield results.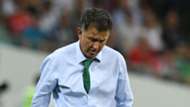 But the biggest misstep from the coach was again trotting out Alanis as a left back, an experiment that failed so spectacularly against the United States that Osorio took him off before halftime of the World Cup qualification match. The Chivas center back - who was at the center of the Liga MX championship team and performed well in his typical role against Honduras - at least made it to the locker room before getting the hook against New Zealand.
While Alanis has qualities to be in the national team, the Gold Cup may have been a better tournament for him - especially if he was going to be asked to play in a role where he is so unfamiliar that Gio dos Santos was pointing to positions where he wanted him to make runs in the first half.
On the other hand, what was the coach supposed to do? After Carlos Salcedo, a makeshift right back in the first place, was ruled out of the rest of the tournament because of a shoulder injury, his options were limited. Rafa Marquez doesn't seem fit to go a full 90 minutes and Luis Reyes' most significant international experience is coming on as a substitute once Mexico had control of the game against Russia.
"We knew it was going to be really difficult to replace Diego Reyes and Carlos Salcedo, they were our right-side defenders. We had to make the team a bit uncomfortable, putting Miguel Layun on the right and Oswaldo Alanis on the left.
"In the end, the two goals on the side where they looked to attack us were too much for us. On the other part of the field, we deserved more because of all the chances created. Clearly, we're efficient in how we get into the final third but not as efficient (in front of goal) and they are. Every time they got into the area, they have the chance to score."
Jesus Duenas would've been a positive addition to the squad with his ability both to play in the holding midfielder role that Mexico lacked during the whole tournament and also could've held down the right-back position, but a personal issue kept him from joining up with the team until the last minute, putting his availability in doubt.
Future star Goretzka lights up Confederations Cup semifinal
It's the second failure from Osorio in as many knockout games with El Tri. But while the manager got things wrong, Mexico ultimately isn't deep enough at the back to have any hope of competing with the world's elite teams. There's hope for the future in the Gold Cup squad and with Carlos Selcedo likely to improve after a move to a new club and Nestor Araujo potentially joining him in facing better competition week-in, week-out. But while Germany's top team was absence, the players on the field showed just how much experience in one of Europe's best leagues and having been part of a development system that builds the national team from its roots can go.
Osorio can only do so much to start his own process similar to the one his counterpart Joachim Low was part of more than a decade ago - one that resulted in a world championship and will result in, at worst, a second-place finish in the Confederations Cup.