World Cup
Mexico advances to knockout rounds for seventh straight World Cup
12:09 AM GMT+8
28/06/2018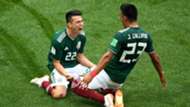 Make it seven World Cup last-16 appearances in a row for Mexico!
After a shocking win over Germany in El Tri's opening 2018 World Cup group match, Juan Carlos Osorio's men followed up with a 2-1 win over South Korea, but even two wins from two wasn't enough.
Mexico still had work to do against Sweden on Wednesday. 
Juan Carlos Osorio decided to keep the same side together heading into the match, a rare thing for El Tri's tinker-man manager, and it nearly proved very costly. 
A 3-0 destruction at the hands of Sweden had Osorio's side looking elsewhere for help, but South Korea came through for El Tri, taking a 2-0 win over Germany. 
That result left Sweden and Mexico on six points while the defending champions were sent packing with four. 
Mexico finishes Group F in second and will take on the top team from Group E, which will be decided later on Wednesday, with Brazil, Switzerland and Serbia all still in the running. The outcome of those matches could be big in determining if El Tri can break the curse of the fifth game. 
Only Brazil, who last missed the knockout rounds in 1966, have a longer active streak of reaching the knockout rounds.
Germany, before Wednesday, had not missed the knockout rounds since 1950 when the side was banned from the World Cup.