UEFA Champions League
Messi would be the best in the Premier League - Fabregas
Nizaar Kinsella & Ignasi Oliva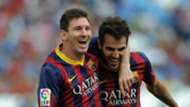 Cesc Fabregas is looking forward to facing his good friend Lionel Messi when Chelsea welcome Barcelona to Stamford Bridge in the Champions League on Tuesday.
The last-16 tie will be the first time Fabregas has played against Barcelona for Chelsea, but he came up against Messi three times during his Arsenal days.
He also spent three years alongside Messi in Barcelona's first team, with the pair having been close friends since they were 12 years old growing up in the Catalan club's La Masia academy. Messi and Fabregas went to Ibiza together last summer and the Chelsea midfielder attended his wedding to Antonella Roccuzzo.
Messi has sporadically been linked with a move to the Premier League in the past and Fabregas believes the Argentine would be the best player in England, even in his 30s, if he ever chose to move. 
"Without a doubt, he would still be the best [player in England]," Fabregas told Goal before adding that he has not spoken much to Messi about Tuesday's match.
"We all want to live it from inside. These games require less talking and to focus on playing and giving all we have. Of course [it means a lot to play Barcelona]. To me, and to all players in the world, including the ones who were born there. 
"But, whether you like Barcelona or not, the 'special' word can be understood in many ways and, as a footballer who likes to live great moments, you know Barcelona offers it, both playing for them or against them. It is going to be a fascinating round and I am sure we are all going to enjoy the games."
The 30-year-old is likely to start in midfielder against his old club, who go into the Champions League tie with a seven-point lead in La Liga, while they have lost just once in all competitions since August.
Fabregas concedes that Chelsea are not favourites to progress to the quarter-finals and also revealed how the players found out about their exciting draw. 
"We were training. I think it was [Thibaut] Courtois who found out through the kitman or the goalkeeping coach, he started shouting that we got Barca," he added. "Then, we just got busy with the training again, that's how we found out. It is an exciting tie.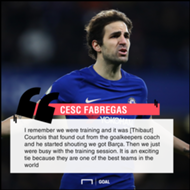 "They are one of the best teams in the world but we are the last champions of the Premier League, we deserve respect.
"We deserve to give it a go. To try and play two good games against them. It has happened in the past. In football, never say never.
"Anything can happen and we have to take our chances. We have to create them and take them. That will be very important for us."