MLS
Mensah reflects on MLS Eastern Conference win over New York City FC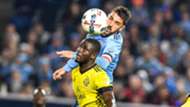 Columbus Crew defender Jonathan Mensah has shed light on Sunday's defeat to New York City FC in Major League Soccer Eastern Conference semi-final second leg.
Away at Yankee Stadium, the Black and Gold conceded twice as they were handed a 2-0 defeat but a 4-1 win in the first leg was enough to send them through to the final on a 4-3 aggregate.
Ghana defender Mensah was in the thick of affairs on Sunday as he deflected an Andraz Struna shot into his own net for the second goal, seemingly giving the Blues a lifeline on 53 minutes.
"I think it was a dribble," Mensah explained, as reported by his club's official website.
"He [Struna] came inside and shot with the left and it came fast on me, I wanted to clear it but it skipped my head and it went inside. 
"We didn't put our heads down. We just picked it up and fought through it.
"We had nothing to lose after the second goal. We had to be stronger than we were before. 
"We came together and just fought through."
Crew have, by the result, set up a final date with Toronto FC.
"We knew it was going to be like that because the field is very small, they're going to come very hard, we just had to be prepared for it - and we were," Mensah added.
"As we trained, we planned for it, we knew everything was going to be fast and we were defending collectively and it went good."
Mensah's compatriots Mohammed Abu and Harrison Afful, like the 27-year-old, lasted for the full duration of the game while Lalas Abubakar was a second half substitute.
The centre-back has made 29 MLS appearances, involving 28 starts and two goals, thus far this season.