Manchester United
Mata: Cup humbling by Bristol City no tragedy for Man Utd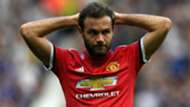 Juan Mata insists exiting the Carabao Cup at the hands of Championship side Bristol Cit is "not a tragedy" for Manchester United.
The Red Devils suffered a shock humbling by the second-tier outfit at the quarter-final stage of a competition they conquered last season.
Another piece of silverware has now been surrendered, having claimed three trophies in 2016-17, but there remains plenty still to play for.
That is the mindset being adopted by Mata, with the Spaniard adamant that those in Jose Mourinho's squad will put a disappointing setback behind them and go again on other fronts.
"When you play for a club like Manchester United every defeat is a massive blow for everyone," the 29-year-old, who was an unused substitute at Ashton Gate, told Sky Sports.
"For the fans, for you but especially for us. We suffer when we don't win because there's such a high standard in this football club to try and win every game.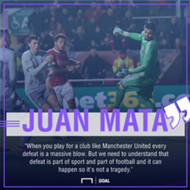 "But we need to understand that defeat is part of sport and part of football and it can happen so it's not a tragedy.
"It's not good at all, but we need to move on and accept it as a part of football and keep moving.
"Obviously we would like to win every single game and we would like to try to do so until the end of the season."
With one route to Wembley now blocked off, Mata says attention will switch to other trophy chases.
United are 11 points adrift in the Premier League title race, but still in contention, while an FA Cup campaign will kick off in 2018 and a Champions League quest continued at the last-16 stage.
Mata added on the back of a dramatic exit from one tournament: "It was a competition that we won in February, it was a good way to face the start of the season lifting that trophy at Wembley.
"We haven't been able to do it this season but we need to move on and we have other competitions to play for.
"Hopefully we can still go to Wembley in the FA Cup, we are playing in the Champions League where we play Seville and there's still many games to go."
Mourinho's men will get plenty of opportunity to shake their cup setback from the system over the coming weeks, with United back in action against Leicester on Saturday.
They then play host to Burnley on Boxing Day before wrapping up 2017 with a visit from Southampton.
The New Year is opened at Everton, before another test against Championship opposition arrives in the form of an FA Cup third round clash with Derby.