Kaizer Chiefs
Mark Williams: Orlando Pirates will take the game to Kaizer Chiefs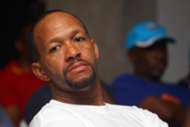 Kaizer Chiefs legend Mark Williams predicts that this time around the eagerly anticipated Soweto Derby will not end in a draw.
While there is arguably no bigger fixture on the South African football calendar than the Soweto Derby, the clash which sees both Soweto giants in Chiefs and Orlando Pirates lock horns, has failed to live up to expectations in recent times.
The last four games between the two sides in the Premier Soccer League (PSL) have all ended in draws.
However, with so much at stake in this year's campaign, the former Bafana Bafana star believes that fans could be treated to an exciting clash, albeit thanks to Pirates' coach Milutin Sredojevic's positive approach.
"No one's had the bravery to go for the win because of the size of the game'" Williams told TimesLive.
"People who have travelled from all over the country to watch this game have not been given what they came for because the coaches have said' 'I want to hold onto my job. If I can get a draw here' or maybe sneak a win' maybe I will'," he added.
"The derby is very hyped up, but I think that this is going to be the first time that I can say that it's not going to be a lovely draw, and the reason why I'm saying that is because of the mentality of the Pirates coach (Sredojevic). And I'm thinking that (Chiefs coach) Steve Komphela might be sitting thinking to himself' 'Do I play 4-4-2' and take on Pirates?' Because he's got the players to," he explained.
"If you really want to see a team who are on form' and I think I said it from about two months ago – this Pirates is a different kettle of fish. You play' you train and you perform' and you stay in the team. Before there was a lot coming from people who are behind the scenes. So, I think it's going to be good for this game. I don't think it's going to be a draw. I think people are going to be surprised by Saturday's game," he continued.
Meanwhile, Williams has urged the Chiefs mentor to take a gamble and play for a win.
"I think Pirates will be very positive, and if Steve can just respond positively' I think these teams can give the people a game that they have been waiting for' for the past five to six years. Take a gamble and try to get the three points. I know the coach of Pirates is definitely going to go for it. It's just Steve's response to that," he said.
"If he also goes for it maybe we can see a boxing match going the 12 rounds," he concluded.