Super League
Maniam providing best care to avoid burnout to youngster Syahmi
Selangor's rising star Syahmi Safari has played in all of their matches this season, and his condition is always a concern to the head coach.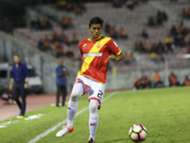 ---
BY        ZULHILMI ZAINAL       Follow on Twitter
---
Selangor defeated Felda United FC 3-1 in their Super League (MSL) match on Friday, the sixth match that young winger Syahmi Safari has appeared for the Red Giants this season.
The 19-year old has played almost all 570 minutes in Selangor's matches this season, including their FA Cup tie against Negeri Sembilan last Tuesday which went to extra-time, which they eventually lost on penalties. The only time he was substituted off was in their round three league match against PKNS FC, when Syahmi was taken off towards the very end of the match.
On top of this, he also played the whole 90 minutes in Malaysia U22's 3-0 defeat to Vietnam U22 on February 7.
Understandably, the Red Giants boss Maniam Pachaiappan is concerned about over-exerting the rising youngster, but has plans to mitigate any ill-effects.
"He's been playing continuously, of course I'm worried about getting him injured. We have to treat him very carefully.
"What's important is his recovery, getting him to stretch more, and trying to reduce his loading. I think all these will take him to another level," said Maniam following the Felda match, when enquired by Goal.
The youngster himself is not too worried about the physical aspect of his transition into senior level football, simply relishing the opportunity to learn from his more experienced teammates, and to take on more established oppositions.
"First of all I want to thank the coach (Maniam) for putting his trust in me. After six games I've grown more confident and familiar with the MSL, playing alongside and against more-experienced players.
"As a young player, playing against national team-level oppositions, they will try and beat me, so I have to keep 100% focus and not let them get past me.
"And the more senior teammates have been encouraging and motivating me," explained the Malaysia U19 skipper.
However the youngster has refused to set a lofty target for himself this season, simply focusing his effort on claiming a permanent spot in Maniam's first eleven.
"What's important for me at the moment is to keep my place in the team and help them. 
"It doesn't matter who scores, as long as the team come first," he revealed.
Syahmi and a number of Selangor's youth players were promoted to the senior team in the pre-season by Maniam, following the departure of several big names in the squad.