Manchester United
Manchester United's £455 million spend in three years dwarfs Ajax's all-time transfer outlay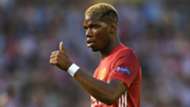 Manchester United have spent more on transfer fees in the past three years than Europa League final opponents Ajax have since the end of World War II.
Proof Pogba has not flopped at Utd
Two of world football's biggest and most glamorous names go into Wednesday's showpiece fixture in Stockholm with hugely contrasting records in the transfer market.
Over the last three seasons, United have spent a total £455 million on players. Ajax, meanwhile, have only spent £379 million on new signings since 1945.
The likes of Paul Pogba costing a record-breaking £89.3m, Angel Di Maria £59.7m and Anthony Martial an initial £36m, highlight the Red Devils' willingness to spend eye-watering amounts of money since 2014.
Ajax, on the other hand, haven't spent over £14m on a single player in their history, despite previously having high-profile names such as Luis Suarez and Zlatan Ibrahimovic on their books.
Miralem Sulejmani is currently Ajax's record signing after joining for £13.8m in 2008, while 2016-17 signings David Neres and Hakim Ziyech cost close to £10m each.
Last season, United had an overall income of £515m, which was more than seven times the figure Ajax brought in, to emphasise the gulf between the two clubs off the field.
Ajax are widely regarded as a smart business club and have ended many a transfer window in profit but, come kick-off at 7.45pm BST on Wednesday evening, the financial differences between the two teams will not be given a second thought.