Belgium
Save Sweden and prove his worth to Man Utd - Zlatan can't flop against Belgium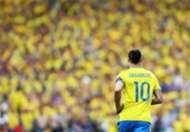 ---

COMMENT
---
Zlatan Ibrahimovic has always been an unpredictable character, a man with an innate flair for the unexpected. It should not have come as a surprise, then, when the Sweden captain suddenly confirmed midway through an otherwise mundane press conference in Nice on Tuesday that he will retire from international football after Euro 2016.
However, while the decision was hardly shocking, the timing, on the eve of a pivotal clash with Belgium, caught the media cold. A must-win game for Sweden has become a must-win game for their skipper. Anything other than victory would spell the end of Ibrahimovic's international career. It would represent a very ignominious exit for a modern great.
Of course, the striker has long been convinced of his own importance. "An injured Zlatan is a pretty serious thing for any team," he once mused. However, an underperforming Zlatan is just as troubling, certainly for a side as limited as Sweden.
Erik Hamren's men have played two games at Euro 2016, against Republic of Ireland and Italy. They haven't managed a single shot on target in either outing - no nation has ever kicked off a European Championship campaign in such fashion - and their only goal to date came via the head of an Irish defender. Of course, Ibrahimovic provided the cross that Ciaran Clark powered past his own goalkeeper to gift Sweden a 1-1 draw in Paris on matchday one.
However, there is no denying that the former Paris Saint-Germain attacker has thus far disappointed in what will be his final appearance at a major international tournament. With the Swedes needing to beat a Belgium team that is brilliant on the break in order to qualify for the last 16, there is the distinct possibility that Ibrahimovic's swansong is going to end on a bum note.
Of course, many will point to his poor supporting cast and there is no doubt that Sweden's squad is one of the weakest in France. Aside from Ibrahimovic, just six other members of their 23-strong panel were plying their trade in one of Europe's 'Big Five' leagues last season. "I think we have one player at the same level as Lionel Messi and Cristiano Ronaldo and that's Zlatan," Hamren acknowledged on Tuesday. "We have many players who play in good European sides but we don't have anyone else like Zlatan."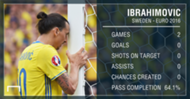 That has been painfully obvious. Sweden's performances have been impotent, insipid and uninspired. As captain, Ibrahimovic must take his share of the blame. He once declared: "I can play all 11 positions because a good player can play anywhere." However, even a great player cannot play everywhere all at once and that is what it sometimes seems Zlatan is trying - or at least feels compelled - to do.
Against Italy, he dropped deeper and deeper in order to help address Sweden's lack of vision and creativity in midfield. However, Ibrahimovic proved just as ineffective in this regard, failing to even create a single clear opening for a team-mate. Indeed, his passing has been particularly poor, with a completion rate of just 63 per cent against the Irish (27 of 43) and 67 per cent (16 of 24) in the 1-0 loss to Italy. Ibra did succeed with all five of the long balls he played across those two matches but his short game was dire.
He is not doing his primary job well either, as his goal threat has been non-existent. He has unleashed just six shots, four of which were blocked, with the other two going wide. Ibrahimovic is presently been linked with a summer switch to Manchester United but those numbers hardly strengthen the argument that the now 34-year-old Malmo native is the man to reinvigorate the Red Devils' attack.
Hamren has unsurprisingly defended his captain's performances in France. "I think he [Ibrahimovic] did what he needed to in the last two matches," the coach insisted. "It was tough [against Italy], though, because they defended very well." There is perhaps comfort to be taken from the fact that, in England, Ibrahimovic wouldn't come up anything like the quality Italy have at the back. There are far more Clarks than Chiellinis in the Premier League.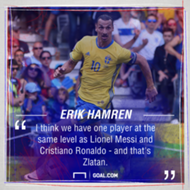 One would also imagine that if Ibrahimovic were to move to Manchester, he could once again flourish working under a coach who got the very best out of him at Inter. Jose Mourinho knows better than most how to manage both Ibrahimovic the player and the man. The Portuguese understands Zlatan's strengths; Mourinho's United would play to them. Ibra would thus receive better service than he is presently enduring at the Euros.
"We had more of the ball than we did against Ireland but we didn't create much pressure and obviously a centre forward needs support from wingers," Hamren acknowledged after the Italy loss. "Ibrahimovic is one of the greatest forwards that I've ever encountered. He's a winner and, if he's disappointed, I think everyone can understand that and accept it. He was very disappointed like all of us. But I think he does his best at all times." The fear, though, is that Zlatan's best is no longer good enough.
Still, Ibrahimovic has confounded his critics before and has always delighted in doing so. "They said they were going to send me to retirement," he said after scoring three times in Sweden's 4-2 aggregate win over Denmark in their Euro 2016 qualification player-off. "I sent their whole nation into retirement!"
The problem is that Belgium now look perfectly placed to end Ibrahimovic's Sweden career because the striker who once claimed to be God looks to have been reduced to a mere mortal over the past two games. Sweden will be praying otherwise because, on Wednesday night in Nice, they desperately need their saviour to conjur one final footballing miracle.