Manchester City
Man City's pressure makes Lukaku and Man Utd buckle
10:07 PM GMT+8
11/12/2017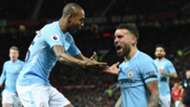 Manchester City took a huge step towards claiming the Premier League title this season as they secured a 2-1 victory over neighbours Manchester United at Old Trafford on Sunday. 
Pep Guardiola's side inflicted the first loss Jose Mourinho has ever suffered in a home league match on a Sunday, with David Silva opening the scoring in predatory fashion two minutes before the break. Although Marcus Rashford promptly levelled, Nicolas Otamendi proved the unlikely match winner with a sharp finish shortly after the restart.
While the match was tense enough to provoke a reported behind-the-scenes fracas in the dressing rooms, on the field, City showed that they simply had too much class for their rivals, whose organisation was not sufficient to quell the Citizens' attacking machine.
The weight of pressure that the visiting side enjoyed was perhaps the most startling thing about the game. When in possession, they spent 28 per cent of their time in United's third of the field – a staggering amount when put into comparison with their hosts, who mustered 14%. Indeed, when Mourinho's men were in possession - 41% of the time - they were in the third of the field closest to their own goal.
Given the territorial control of the guests, any defensive slips were liable to be punished, and two of those were made by Romelu Lukaku, who showed why he is more renowned at the other end of the park by committing the two errors that consigned his side to defeat.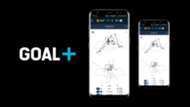 What was perhaps most surprising about the match was that City did not make more of their dominance in terms of possession and turf. They mustered only 10 shots, of which seven were on target, but United were more efficient when they did get the ball forward and from their relatively meagre possession got seven efforts away.
That Guardiola's men were not better able to turn their control into chances speaks volumes of the manner that United defended on the whole.
Indeed, it was simply two individual errors that cost Mourinho's side in the end, which is perhaps the frustration that sparked the drama in the dressing rooms after full-time.
City were the better side, but United made their lives extremely difficult. 
With an 11-point advantage at the top of the table, the league is already, surely, decided, however.
All stats featured in the article came courtesy of the Goal+ app, exclusive to Samsung devices. Download the most cutting edge football app now!