Mamelodi Sundowns
Mamelodi Sundowns spokesman Thulani Thuswa denies reports of unrest at the club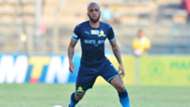 Mamelodi Sundowns recently bolstered their squad with the additions of Oupa Manyisa and George Lebese.
However, Sundowns have struggled for consistency this season as they have suffered several defeats, and according to reports the duo's salaries at the club, together with them being given preferential treatment has reportedly sowed divisions within the dressing room which could explain the Brazilians' recent decline.
According to reports in the Daily Sun, Lebese and Manyisa are reportedly earning in the region of R250 000 – R 350 000 and this hasn't been sitting well with some of the club's senior players.
"It's painful to win the PSL and go on to win the most important trophy in Africa (Caf Champions League) and still be valued less," a source told the Daily Sun.
"New faces are valued more than us, players who fought hard for the team to be well-respected in Africa. Favouritism is another factor that's killing the spirit of players in the team,"
There has also been suggestion that Mosimane's implementation of a three-month review system has also caused a rift between management and the players.
"Another reason that's causing tension within the club is the new rule book introduced by Pitso Mosimane, which states that players should be able to review their own games and positions every three months," another source said.
"This is done to determine which players would have space in the team next season. Other senior players are unhappy with the move because he (Mosimane) shoves this in
their faces," the source explained.
Nonetheless, Sundowns' spokesman Thulani Thuswa quashed any reports of unrest within the club.
"We win some and we lose some. The new rule book is not true," Thuswa said.
"All is well in the camp. We lost our Amazulu game because of the referee. No one is complaining about salaries. I don't know how much anyone earns," Thuswa added.