Mamelodi Sundowns
Mamelodi Sundowns might need that point, says Mosimane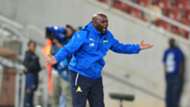 Mamelodi Sundowns' title defensive was dealt a major blow on Thursday evening as they missed out on two valuable points against Platinum Stars.
It was a forgettable evening for coach Pitso Mosimane's side, who were caught out twice by the Dikwena attack. In the aftermath of the clash, Mosimane was considerably disappointed with the result and bemoaned his side's set-piece frailties.
"I am, of course, disappointed with the result but we tried, you know," Mosimane said post-match.
"We gave it our best shot.
"We spent the whole morning talking about the throw-ins and set-pieces because against (Bidvest) Wits we conceded from a set-piece after a throw-in which was for us," Mosimane said.
"Again we conceded from a throw-in, the first goal, it's unbelievable. It's disappointing. Even their second goal was a set-piece, quickly taken. Against Golden Arrows (in the Nedbank Cup) it was the same thing.
"But it's lessons in football, and you never know, sometimes maybe you're not happy with a point but we might need that point hey. But to be honest, we should have won," Mosimane added.
Ahead of kick-off, Mosimane spoke about his wariness of Stars' attacker Ndumiso Mabena and as fate would have it, the 29-year-old was instrumental in the result, scoring two goals on the night.
"I called it. He's (Mabena) not been playing all the time and the suddenly Cavin Johnson puts him there, and he's experienced and he knows how to play," Mosimane said.
"He (Johnson) put in his best line up, that's the one to win. I don't know why he didn't put them in for the last three games.
"Maybe they waited for Sundowns." Mosimane concluded.