Mamelodi Sundowns
Mamelodi Sundowns did themselves a big favour by taking the early chance, says Pitso Mosimane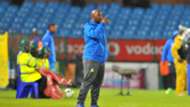 A solitary first half strike by Bangaly Soumahoro gave Mamelodi Sundowns their second victory on the trot as they overcame a plucky Golden Arrows on Sunday afternoon.
The victory propelled the Tshwane-based outfit back to the summit of the Premier Soccer League (PSL) table, and speaking after the game, Sundowns coach Pitso Mosimane was satisfied with win on the day considering the conditions which they were forced to contend with.
"I think we did ourselves a big favour by taking the only chance at the time, and as early as that time," Mosimane told SuperSport TV.
"We've been having good early starts to be honest. It was difficult conditions for both sides, but I know it doesn't look like it from the outside, but inside it was difficult conditions for both teams with the wind. It didn't work in our favour in the first half. But it did work in our favour in the second half, it helped us because the ball hangs in the air, we can push our back-four almost at the centre because the ball can't go there," he explained.
"They had their chances in the beginning to use the wind but I think we defended well to be honest. It was a scrappy affair, you can't have the Baroka performance today on conditions like that. You have to take what's there," he added.
Although, Mosimane was happy with the three-points he did admit that Sundowns were lacking quality in the final third.
"Our final pass was not good but we were hanging in there. I didn't want to make the substitutions because I thought Vila (Vilakazi) was going to score. Percy (Tau) was a little bit emotional today, it was not his game but he worked hard," he said.
"You have to take it the way it is. We played a difficult team that is good on the break. Sometimes you need to have the facets to play in all the conditions. We were professional and did what we had to do," he expressed.