AFF Championship
Syamer eyeing careful dominance over in Bangkok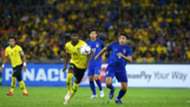 Like many of his team mates on the night, Syamer Kutty Abba saw plenty of the ball and he played a major role in midfield that enabled Malaysia to hold over 60% of the ball possession in the 0-0 draw against Thailand in the first leg of the 2018 AFF Suzuki Cup semi-final.
The match was played in front of a capacity crowd of 87,545 were treated to a Malaysian dominance with Syamer and his midfield partner Akram Mahinan winning the battle in the centre of the pitch.
Yet like many of the Malaysians in attendance at Bukit Jalil National Stadium, Syamer was left slightly disappointed not to have helped his team score given the plethora of chances that Harimau Malaya created on the night.
"We dominated the game and created lots of chances but we just didn't convert. It's going to be a tough match in Bangkok but we believe that we can get a good result there. We have to continue what we're doing and retain believe. Even though it's an away game, we have to maintain the same tempo and gameplay when there," said Syamer in the post-match press conference.
The 21-year-old held his own in the engine room of Malaysia, showing his stamina to go box-to-box and proving useful to the cause in both the attacking and defending scenarios. Often times he was caught in his own running personal battle against Thailand's Thitipan Puangchan.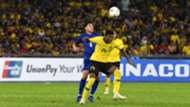 However the young midfielder did not let the occaison get the better of him and constantly showed himself available for the ball on the night and rarely misplaced a pass. On the flipside, the Penangnite also pointed out that keeping a clean sheet against the free-scoring Thais will put Malaysia in good stead ahead of the second leg. 
"Today we didn't concede any goal and that's to our advantage because if we score there, it'll be tough for them. We just need to be more clinical there. At the same time, we have to be careful as well because it's their home," he added. 
Syamer was also awarded the official man-of-the-match award for his performance, making him the third Malaysian after Norshahrul Idlan Talaha and Aidil Zafuan to have picked up the same award in previous matches.
Follow Goal Malaysia on Instagram