Super League
Longhi lauds perfect JDT game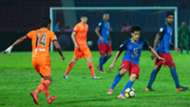 Johor Darul Ta'zim bounced back from their AFC Cup disappointment to produce a solid performance to defeat PKNS FC 3-0 in Saturday night's Super League action at Tan Sri Dato Haji Hassan Yunos Stadium.
Despite the heavy downpour before the start of the match which caused the pitch to be heavy, JDT players adapted well to the conditions and dominated the match from start to finish. Longhi brought back his usual starting XI with only Nazmi Faiz and Hariss Harun retaining their place in the starting line-up.
That meant Safiq Rahim continued to stay on the bench and showcased the improvements that Nazmi has gone through in recent weeks. Helped Malaysia to respectable results against Lebanon and Bhutan, Nazmi looks like he's finally finding his feet again at the highest level.
Gonzalo Cabrera grabbed a brace while Safawi Rasid got his customary long range goal, all of which gave Longhi the satisfaction that he was seeking.
"I am really satisfied with tonight's game because the players had given their best performance and shown good composure throughout the 90 minute match. For me, the most important thing is the team. We want to win, we have to fight for it, we have to play football and dominate the game."
"We had played a good match in the first half, and managed to score two more goals in the second half. Scoring goals is important in football as a matter of fact, personaly to me, it was a perfect game. The players showed composure as did our young players. I am really happy and to me, each player is important. Not just one or two but all.
"For the match againts Pahang, without a doubt it will be a close game. We will keep this match momentum and I have a good feeling about the next match and we will try to get one or two goals to achieve victory," said the JDT head coach after the match.
The win comes as the right tonic for the team, who will have a testing week ahead. On Friday, they will go up against Pahang in the second leg of the FA Cup quarterfinals before a crucial final AFC Cup group match the following Tuesday against Song Lam Nghe An.