Malaysia v Mongolia
Akhyar earns praise from both camps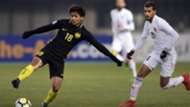 At the end, it wasn't the result that Malaysia would have wanted. A 2-2 draw at home against a side many would consider to be a lower level opposition than that of Malaysia, but it is what it is. There's no momentum in the senior national team at the moment and the deficiencies were laid bare for all to see at Bukit Jalil National Stadium on Thursday night. 
Yet, despite the apparent gloominess, one positive that stood out like a shining beacon was the cameo produced by one Akhyar Rashid during the match. Brought on after half time for the ineffective Mahali Jasuli, the Kedah player was the bright spark in an otherwise indifferent Malaysian performance.
The 10,000 odd home crowd was on their feet, every time Akhyar had the ball and while it got a massive deflection, he deserved the goal he scored. His presence caused havoc to the Mongolian defence, more than any of his more illustrious team mates could offer.
"Number 7 [Akhyar] was a super player and I can't believe he didn't play from the start. He created big problems for us and I couldn't react because I didn't have the players," complimented Mongolia's head coach Michael Weiss after the match. 
Malaysia's Tan Cheng Hoe while acknowledging that Akhyar made a great impact on the match in the 45 minutes that he played in, wants to be more cautious in his approach to handling Akhyar's progression.
"Akhyar is a very young talented player who is confident. He's the youngest in the team and we have time to still see how he does in training. We can't expose him too much and we have to give him minutes from matches to matches and hopefully he'll develop well."
"He's a fantastic player and he can take on opponents. In the future, he will learn when to go and when to pass," said Tan in the post-match press conference.
The other three goals in the match were all scored by Mongolian players, although one of it counted towards Malaysia's tally as it was an own goal from the Mongolian captain. And Tan was not as complimentary when it came to those mistakes at the back.
"Overall, the players did their best and played well but as well, we cannot give the excuse that every time we play well, we concede goals. The goals came from individual mistakes, lack of concentration," added Tan.
The next match for Malaysia comes in the dead rubber final group match of the Asian Cup qualifiers away to Lebanon on March 27 and there would not be a better time for Tan to give an opportunity to the likes of Akhyar to stake a starting berth.