Malaysia v Kyrgyz Republic
Norshahrul warns that this is just the start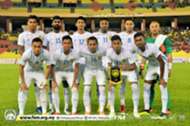 During and after the match between Malaysia and Kyrgyzstan, many were signing the praises of one player in particular as he rolled back the years with a performance that reminded people what he is still capable of doing.
Norshahrul Idlan Talaha emerged as one of the standout players in the narrow defeat to Kyrgyzstan in the roaming attacking role behind Zaquan Adha and was the closest Malaysian player to finding the back of the net in the match but unluckily saw his shot bounced back out against the bar.
One of the stars of Malaysia's only ever AFF Championship win back in 2010, Norshahrul showed that he isn't yet over the hill as he produced a performance reminiscence of him in his prime. Very good at holding the ball, his dribbling runs caused the opponent plenty of problems but he warns that this is just the start.
"After the quarterfinal in the Malaysia Cup, I rested about 10 days and only just came back to training with the national team. I'm pleased with how I've performed but of course I will need to continue to work hard to be in the squad for the AFF," said Norhsharul after the match.
Surprisingly Kuala Lumpur had the most players in the starting line-up with Perak and Pahang sharing second spot with two players each. In Mohamadou Sumareh and Norshahrul in attacking positions, there's a grown camaraderie and understanding which Tan Cheng Hoe could utilise for Malaysia.
The duo can be seen working well with each other on the right hand side, with their combination play working well to push Malaysia into advance attacking positions. The 32-year-old was in the team in 2016 when Malaysia had a disappointing AFF Championship but is hoping this time around with better players around him, it can be better.
"I'm very comfortable with Sumareh especially given our time in Pahang. We understand each other well on the pitch," added Norshahrul.
Follow Goal Malaysia on Instagram