Transfers
'Madrid like Bale but nobody is guaranteed games' - Man Utd target faces future dilemma, admits Calderon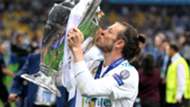 Gareth Bale needs to be aware that no side can guarantee him games, says Ramon Calderon, as the Wales international considers a move away from Real Madrid.
Having expressed his disappointment at starting a Champions League final clash with Liverpool on the bench, a man who made a match-winning contribution as a substitute is now weighing up his options.
Bale has hinted that his future could lie away from the Santiago Bernabeu, with his profile and price tag having been boosted again by a spectacular two-goal showing on Europe's grandest stage.
Former Madrid president Calderon can understand the 28-year-old's frustration at having to scrap for regular outings in Spain, but has warned that he will face similar competition wherever he goes.
He told talkSPORT of the mounting transfer talk: "I know that [Zinedine] Zidane likes him very much and fans love him, but he has had injury problems since the beginning of the season that have been why he hasn't played regularly.
"When he joined the team he did amazingly, like he did in the last final.
"I don't think it's a matter of tactical strategy or lack of confidence from the coach.
"It's understandable he's not happy - he hasn't been playing regularly in the last matches.
"And now the ball is in his court. I don't know what he's thinking, but I'm sure he'll be talking to the coach and the President.
"But no one can assure a player that he is going to play all the matches. That is a problem for a player like him."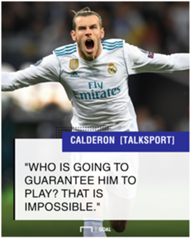 Bale has been heavily linked with a return to the Premier League this summer, with Manchester United reported to be leading the chase for a former Tottenham star.
Calderon added on a talent that will be much sought-after if he is to become available: "He's an amazing player and he has proven that many times.
"He was the best player in England in the Premier League.
"The goal he scored [in the final] is difficult to do for a player not as talented or gifted as he is.
"But, who is going to guarantee him to play? That is impossible.
"Of course, if the injuries come back again… you have to be fit to play in a big club, and players if they are more fit than you are will be playing."