Friendlies
Madagascar pull out of international friendly with Bafana Bafana
South Africa Chief Editor
11:16 PM GMT+8
05/09/2019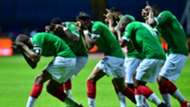 Madagascar have pulled out of their international friendly with South Africa. 
The two countries were scheduled to lock horns at Orlando Stadium on Saturday night, but according to the South African Football Association (Safa), the game will no longer be taking place. 
Breaking News: SAFA regrets to inform the public that the match between Bafana Bafana and Madagascar scheduled for this coming Saturday (7 September) has been called off after the visitors (Madagascar) decided to withdraw from the encounter. pic.twitter.com/HVD6nRLu4r

— Bafana Bafana (@BafanaBafana) September 5, 2019
Madagascar had agreed to replace Zambia as Bafana Bafana's new opponents for this weekend. 
This was after the Football Association of Zambia (FAZ) decided to dump Bafana on Tuesday due to xenophobic attacks that had rocked South Africa. 
Safa then held talks with Madagascar soon after receiving official communication from FAZ as they looked to secure a friendly match for Bafana. 
However, it doesn't look like Bafana will be able to get new opponents in the next few hours. 
In a press conference held Rosebank on Thursday night, coach Molefi Ntseki said a decision on whether or not to release the players early from the camp had not be made.
However, the 50-year-old mentor said he expects everything to be clearer tonight.   
Safa acting CEO Russell Paul said they will talk to Ntseki before deciding if the players should return to their clubs. 
Paul said there was a possibility of playing another practice match, before admitting that it's unlikely Safa will make arrangements for Bafana to play an international friendly at such short notice.  
The match was supposed to be Molefi Ntseki's first since being appointed as head coach of Bafana Bafana last weekend. 
Ntseki replaced Stuart Baxter, who resigned soon after the 2019 Africa Cup of Nations (Afcon) tournament which was staged in Egypt.    
Madagascar released the following statement: 
The Malagasy Football Federation (FMF) has been approached by the South African Football Federation (Safa) to organize a friendly match between the national team of Madagascar and that of South Africa.
Honoured by this consideration, and finding the interesting opportunity to prepare the Malagasy national team for the different deadlines that await them, the FMF initially gave its agreement in principle for the organisation of the meeting.
However, after having agreed with Malagasy national institutions in particular regarding the security of the delegation of Madagascar and Malagasy nationals in South Africa, it was found necessary and judicious to decline the invitation.
The Malagasy national team will continue its reunion in Madagascar and will see its elements return to their respective clubs after the Fifa date.
Finally, the FMF apologises to Safa for the efforts they have begun to organise the meeting, and also supporters of Malagasy football who looked forward to the match."