José Mourinho
Luis Garcia goes 'ghost' again in Halloween trolling of Mourinho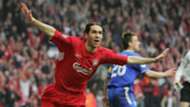 Jose Mourinho must be getting sick of the sight of Luis Garcia, with the scorer of a famous "ghost goal" for Liverpool trolling him once again.
While in charge of Chelsea back in 2005, Mourinho saw his quest for Champions League glory ended in controversial circumstances at Anfield.
Liverpool 13/10 to score O4.5 vs. Maribor
A poked effort from Garcia was judged to have crossed the line by the match officials, leaving the Blues cursing their luck and the Reds marching on to an iconic final victory over AC Milan.
Plenty has happened since that occasion, with Mourinho now in charge of Manchester United and Garcia happily retired.
The latter is not about to let his old adversary forget about a memorable crossing of their paths, though, with the former Spain international making the most of Halloween to get into the ghoulish spirit.
Garcia appears to be making his trolling of Mourinho an annual event, having also donned a ghost costume on October 31, 2016.
He has taken things a step further this time around by also including a matchday programme in his social media post, with his face adorning the cover of a publication from a Liverpool clash with Chelsea.
What will 2018 bring? Mourinho may already be having nightmares!