NPFL
Lobi Stars only interested in winning, says Solomon Ogbeide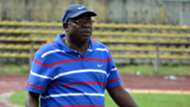 Lobi Stars head coach Solomon Ogbeide has revealed that his side are not keen on playing well but winning this season.
On Sunday, Samad Kadiri's strike was all the Pride of Benue needed to pip Go Round 1-0 at the Aper Aku Stadium to move to the summit of the Nigeria Professional Football log.
And Ogbeide says that his side will focus more on getting the maximum points in upcoming games rather than dominating proceedings.
"There is no magic other than hard work. It is not yet Uhuru for Lobi Stars," Ogbiede told Goal.
"The team is still work in progress. At the end of last season, we brought in some new players who are yet to play enough together and understand themselves.
"All we need currently is to start to garner some points and later we will stabilize as a team. We played a quality game [against Enyimba], we didn't win.
"We played badly but we won. It is a philosophy in the game. But we played badly and we won. All we are interested in is the three points.
"Whether anyone likes it or not, no one can take away the three points from us. No two games are alike. In our home draw against Enyimba, we played well and did not win.
"But there were some positives we took away from that game and we went to Enugu to win against Rangers. We came back home against Go Round and there was something we did right to win the match.
"How do you win a match? You win by using tactics and techniques to score goals and defend it. We did against Go Round and we won. Whatever tactics you use, the ultimate in football is winning and Lobi want to keep winning in our upcoming games."
League leaders Lobi Stars have seven points from three games so far and remain the only side yet to lose a match in the new season.