Transfers
Lemar stars for France to leave Arsenal looking like Deadline Day duds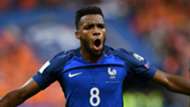 ---
COMMENT
---
Thomas Lemar will probably never know a day like it again in his life. He went from the hustle and bustle of a potential Deadline Day move to Arsenal or Liverpool for a fee that spiralled up to €100 million, to playing a starring role for his country as they took a big step towards the World Cup.
Far from being distracted by the speculation, he seemed inspired by it. The Monaco attacker scored the twice in a 4-0 victory over the Netherlands in a match that was far more one-sided than the final score might have suggested. 
His first and France's second was the strike that took the game away from their lacklustre opponents. And it wasn't just any normal goal either, it was a cracker of a first-time drive that soared into the top corner of the Dutch net.
With time running out, he then showed the desire to break forward half the length of the field on a lightening counterattack to turn into an open net after being teed up by Antoine Griezmann. 
There was even time for Kylian Mbappe to cap a super cameo with his first international goal with a characteristically sharp finish that highlights just why Paris Saint-Germain pushed through a loan deal earlier in the evening that will ultimately result in a €180m transfer from Monaco. 
Lemar, though, was the star. The 21-year-old was a hub of activity throughout and if Arsene Wenger was watching, he would surely have been regretting not making a more concerted effort this summer to sign the player who was France's shining light.
Not only did he score twice, but he played a pivotal role in the build up to the first, offering a brilliant roulette in the centre of the field to begin the construction of a fluent period of French play that resulted in Antoine Griezmann slipping the ball through Jasper Cillessen's legs in the first half.
"We'll see what happens, but for the moment I'm at Monaco, and I'm very happy over there," he said in the game's aftermath, basking after an encounter that saw his stock rise further.
Even an abject performance from the Netherlands – and it is difficult to overstate just how poor the Dutch were – could do little to hide how accomplished the hosts looked. Indeed, for long periods it seemed they found life too easy as they seemed more intent on showboating and stringing together sequences of clever flicks than playing penetrating football.
Not that there was any great concern, so impotent were their guests.
France are now ideally placed to qualify for Russia 2018. Sweden's loss in Bulgaria means that it will take an incredible turnaround if they are to be denied top spot in Group A.
Competition will be fierce even to make Deschamps' 23-man squad for the competition but Lemar is surely destined for it, barring any untoward physical mishaps. 
His move to the Premier League may not yet have materialised, but Deadline Day 2017 may yet be remembered as the evening upon which a star for the national team was truly born.